Have you ever wished you could easily keep up with the events and important dates in your workplace through one dedicated calendar? Humi helps you do just that with Calendar Feeds.
Calendar Feeds allow you to add and subscribe to your employee's work anniversaries, birthdays, and time off by linking the details in Humi directly to your Google, Apple, or Outlook calendar. Efficiency–check!
In this article we'll go over:
To get started, head to Company and click on Calendar Feeds.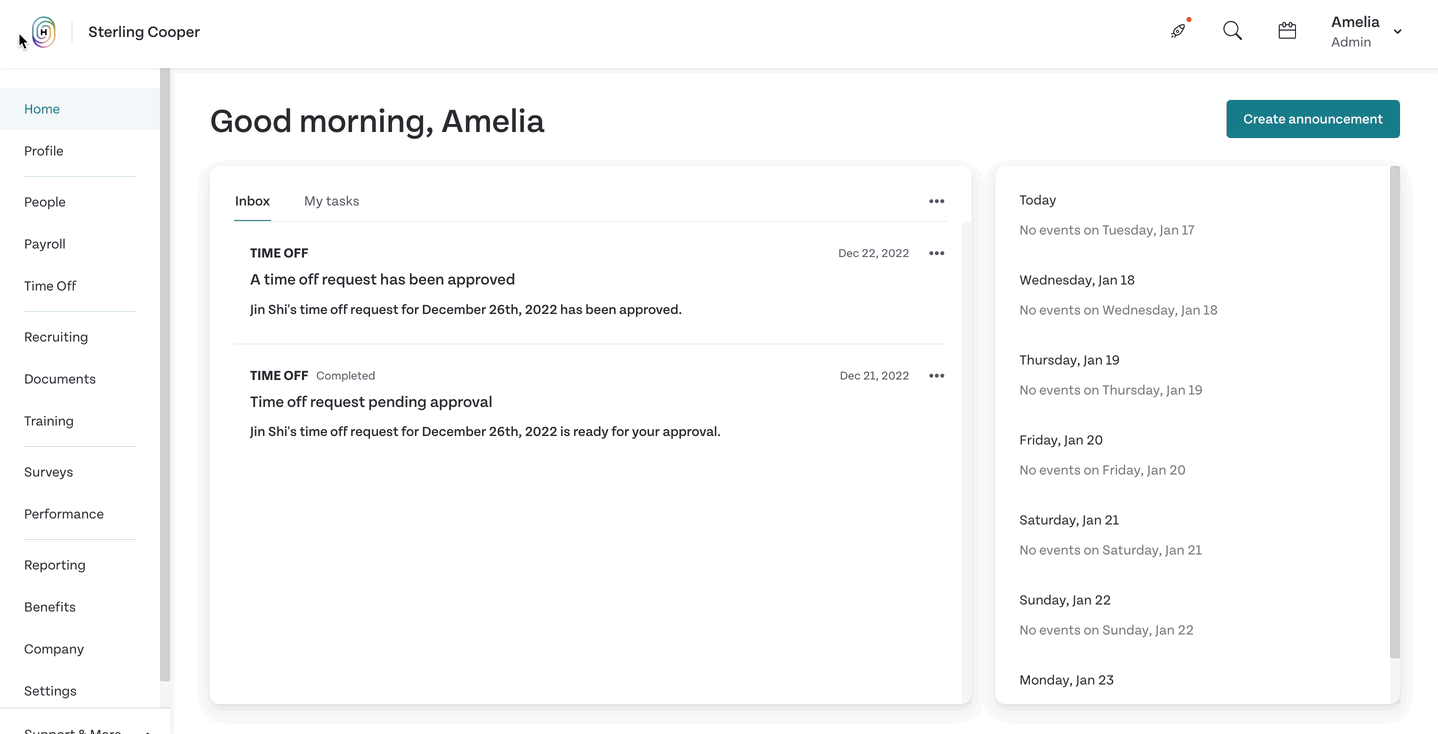 Note
When you sync your calendar feed to another platform, the information will still be shown in Humi on the Upcoming Events on the homepage and also on the Time off Calendar.
Understanding Calendar Visibility
There are a few settings that affect the visibility of Time Off Calendar Feeds, as well as the details shown in each one. These include:
Your assigned role within Humi
Whether the general Time Off Leave Visibility setting is toggled on or off

Toggled On: Everyone will have access to the default calendar feeds available to their assigned role
Toggled Off: Everyone will have access to the My Time Off calendar feed, but only admins will have access to the rest of the calendar feeds

The visibility settings of each type of time off


Public: All details will show, including the type and reason for the request
Private: the days booked off will show as "away" with no additional details
Note
To learn more about setting up your Time Off Module, click here.
Choosing a Calendar Feed
Each calendar feed offers specific information so you can access the details you need most. Choose your role from the tabs below to learn about the purpose of each different calendar feed.
How to Create and Sync your Calendar Feed
Below is a brief overview of how to add a calendar feed to your existing calendar platform. For additional instructions, we recommend reaching out to your default calendar provider.
Google Calendar
In your Google Calendar, click the + button next to Other Calendars
Select From URL in the dropdown menu
Paste your Calendar Feed URL and click Add calendar
Apple Calendar in MacOS
In your Apple Calendar, open the File menu and select New Calendar Subscription
Paste your Calendar Feed URL and click Subscribe
In the next info dialogue box, in the Auto-refresh dropdown menu, select Every hour
Outlook in Windows:
Go to your outlook.com calendar and log into your account
Click Import at the top of the window
Select Subscribe from the left sidebar
Paste your Calendar Feed URL into the Calendar URL box
Enter a name for your calendar in the Calendar Name box
Click Subscribe
Note
Each user will need to link their chosen calendar feeds individually if they'd like to use them. If you need access to the calendar feeds for another role, an admin will need to change your assigned permissions. To learn how to assign employee roles, click here.