Now that you've set up your Job board and Indeed integration, it's time to create your job postings!
You can easily set up your job postings and manage applicants with customizable job funnels.
Note
Only admins can create and manage job postings. However, if you want a manager or employee to have access to the recruiting module, you can do so by creating a custom role because you can't edit anything for default roles.
This post will explain the six steps to complete when creating a job posting:

How to create a job posting
In "Recruiting," click the "+ Create Job Posting" button in the top right corner of the screen.

Basic Information
Humi will direct you to the "New Job Posting" page where you must enter the job title, job type and job category.

Once you've entered the basic information for the job posting, a "Save Draft" button will become visible on each subsequent page. If you get disturbed and need to navigate away from creating the job posting before finishing it, you can click "Save Draft" to save your work and return to it later. Click here to learn more about managing job postings in "Draft" status.
Manage Hiring Team
Scroll down to the "Manage Hiring Team" section and select the "Hiring Team" members. By default, anyone with "Recruiter access" will be on the hiring team.
To add hiring team members:
Click the "Add member" link
Select the employee(s) you want to add to the hiring team by clicking on their name. Once selected, they will move to the right side in the "Selected" column.


Click "Assign" to add the employee to the hiring team.
In the "Access Level" column, use the dropdown menu to select the hiring team members' access level. Learn more about access levels here.
If you don't know who will be on the hiring team yet, don't worry, you can always add them after creating the job posting. Learn how to add or remove hiring team members.
Once you've filled in the required fields, click "Next."
Job Information
In Step 2, Job Information, complete all of the required fields.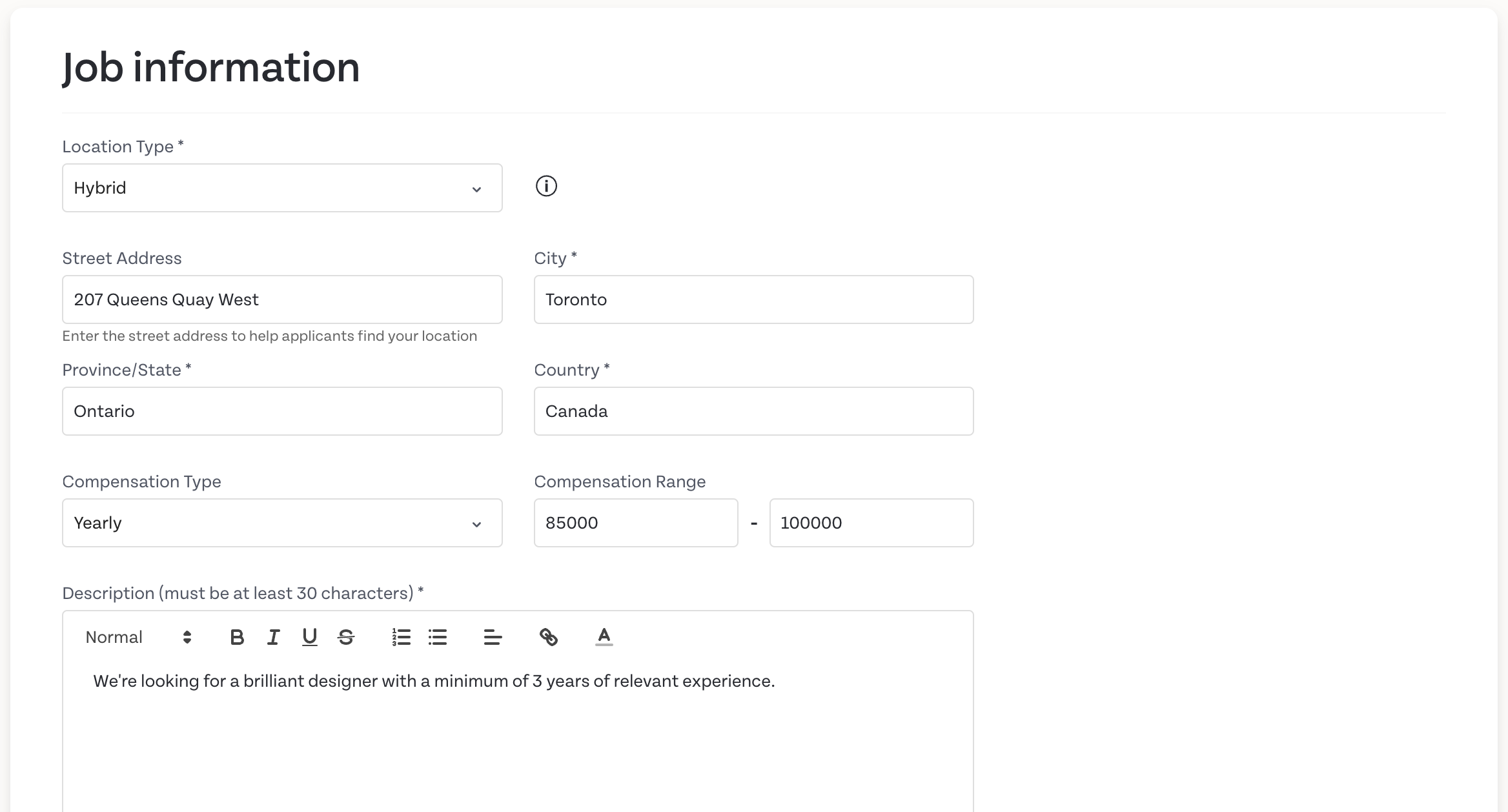 Location Type
Select the "Location Type" from the dropdown field. There are three options to choose from: Onsite, Hybrid, and Remote.
If the job will be at a physical location, choose "Onsite." This will display location details alongside your job posting, so potential employees will know where the position is based.
For positions that offer a combination of on-site and remote work, Humi offers a "Hybrid" location option. This will display physical location details alongside your job posting, so potential employees will know where the position is based and show a Hybrid badge on your Humi Job Board.
A note about Indeed:
The hybrid location type is not supported by Indeed, so applicants cannot filter for hybrid job postings on their platform. Jobs marked as "Hybrid" in Humi will display as "In-Person" on Indeed. This is because Indeed considers Hybrid positions a type of in-person work.
To make it easy for applicants to find your Hybrid position, we recommend adding the phrase "hybrid remote" in your job posting description. This will allow the job posting to appear when applicants search for "hybrid remote" jobs on Indeed.
If the position will be fully remote, choose the "Remote" option. If you select "Remote" for the job location, a "Remote" badge will appear on your Humi job board and it will be listed as a remote job on Indeed.
Street Address
In the next field, enter your company's street address and a dropdown list will automatically appear. Choose your location from the dropdown list, and your business address will be auto-filled, including the city, province/state, and country. If you enter a street address, it will appear as a hyperlink to Google Maps on the job posting. If you leave this field blank, Humi will only display the city, province/state, and country you entered.
Entering your exact street address is completely optional, but is beneficial for jobs where applicants must physically be present so they can check if your location is a good fit for their needs, such as proximity to home, school, daycare etc.
Compensation Type (Optional)
If you want to include the compensation amount on the job posting, select the "Compensation Type" from the dropdown field.
You can select from the following choices: Hourly, Daily, Weekly, Monthly, Yearly or N/A. Once you've selected the compensation type, enter the compensation range for the job posting. The compensation range will be displayed on the job posting; however, if you don't want to include a compensation range, you can leave this field blank or select "N/A."
Note
If you post the job on Indeed as well, they will confirm that the compensation meets the minimum pay requirements. Indeed will not post the job if it doesn't, so make sure you choose the appropriate compensation type.
Enter the job posting details in the "Description" field. Once completed, click "Next."
Documents & Links
In step 3, Documents and Links, you'll see two prepopulated documents: Resume and Cover Letter.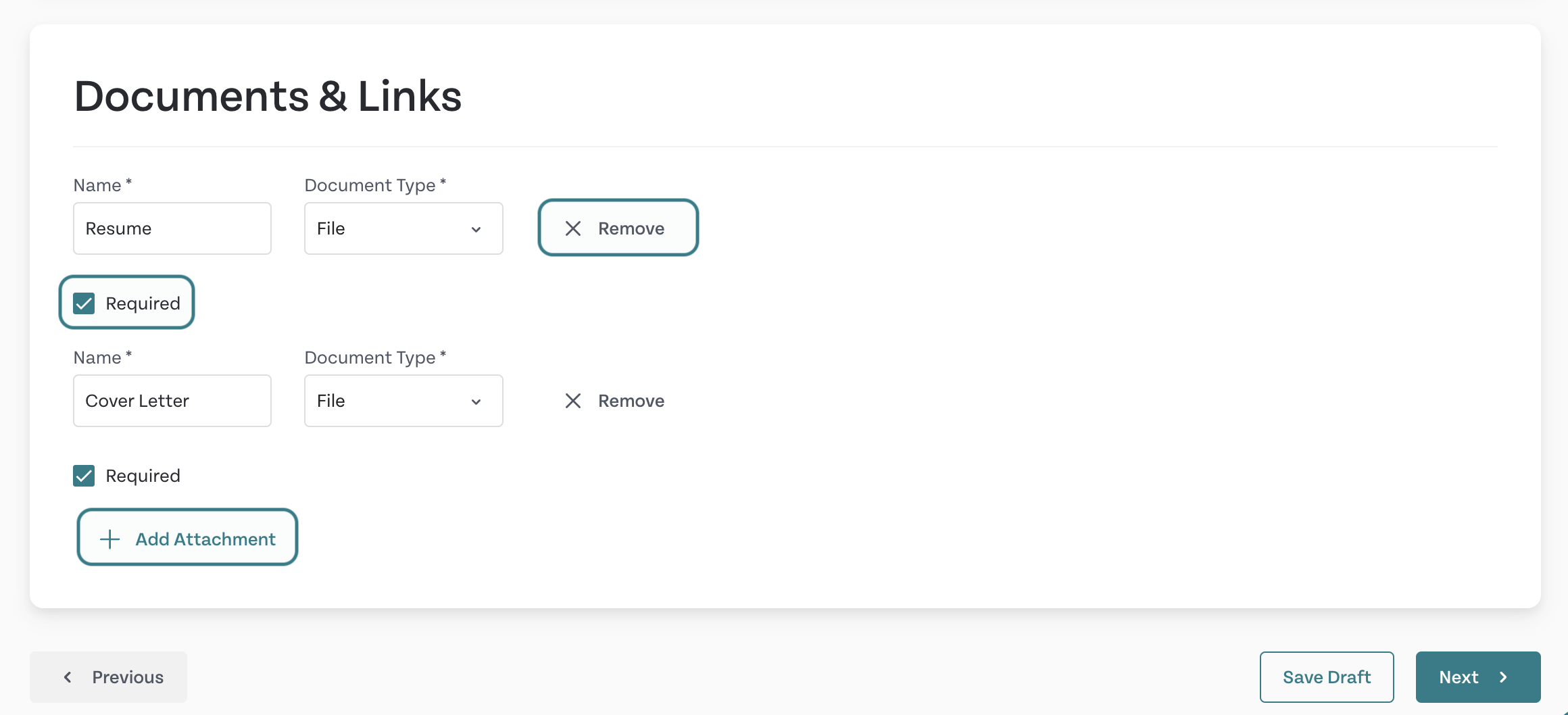 You can keep these or change the name of documents you want from the applicants by clicking on the "Name" field and "Document Type" fields and adjusting them.
There are two document types to choose from, "File" or "Link."
Uncheck the "Required" box if the attachment is not required, but the applicant can attach the document if they choose to.
To remove a document entirely, click "X Remove."
If you want to add additional documents for applicants to upload, click the "+ Add Attachment" link.
For example, if you want applicants to include a link to their portfolio, click the "+ Add Attachment" link, then enter "Portfolio" in the "Name" field and select "Link" from the "Document Type" dropdown menu.
Additional and Auto-archiving Questions
In step 4, Job Posting Questions, you can add additional questions and auto-archiving questions for your applicants.
If you have existing questions from previous job postings, you can save time by reusing them instead of creating them again from scratch.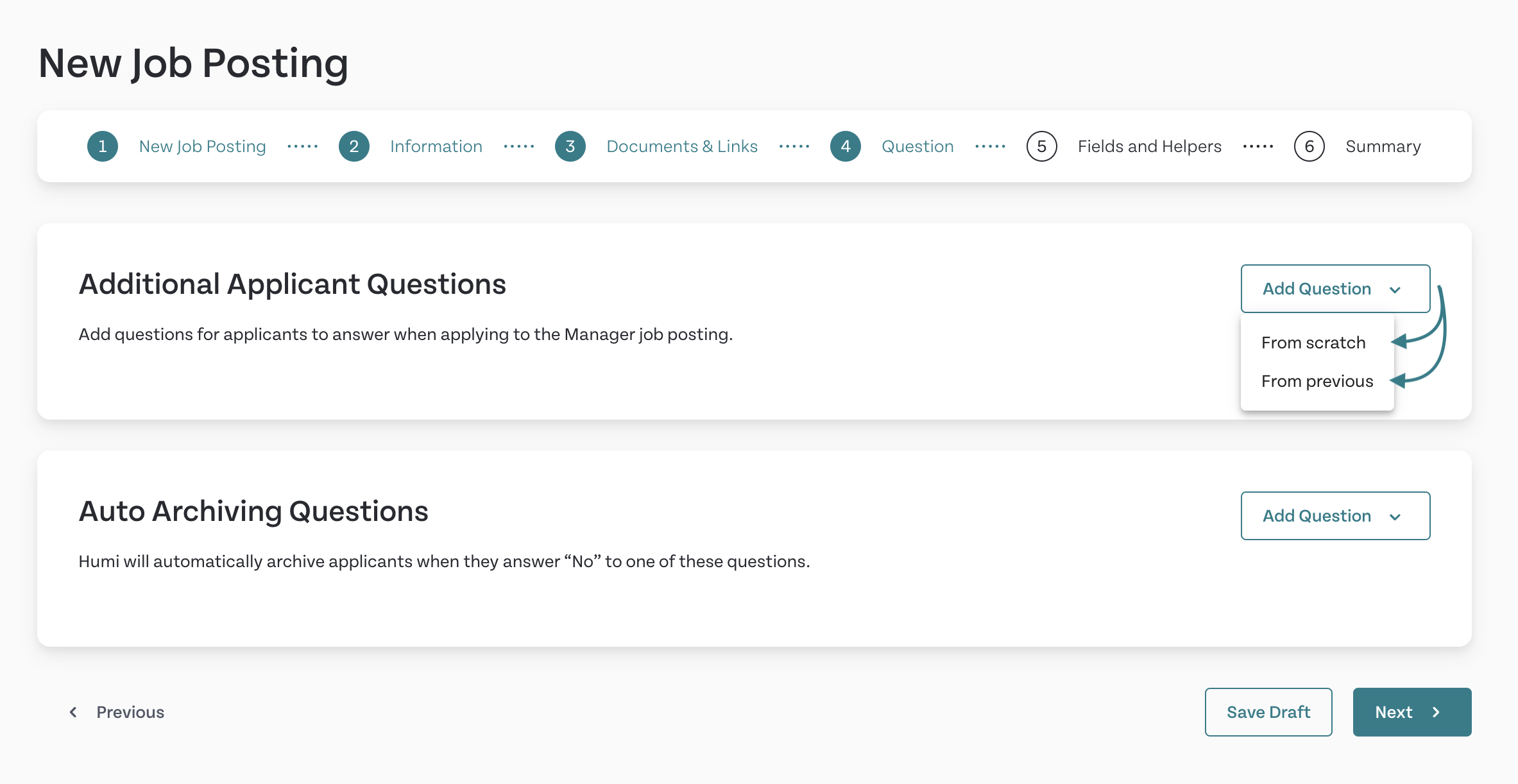 Note
There are default questions on every job posting, including: About you, Experience, Education and Skills. If you want additional questions for more information beyond these default questions, you can add them here.
Add questions
Click on the "Add Question" dropdown, then select "From scratch" or "From previous." If you want to reuse a question you created on a previous job posting, select "from previous" and then check the box to select it from the list.
If you select "From scratch," a pop-up will display. In the first field, select the question type you want from the dropdown menu:

Single-line – for questions that need short responses
Multi-line – for questions that require long responses
Number – when the answer needs to be a number
Date – when the answer needs to be a date

In the "Additional questions" field, enter the question you require.

Click on the "This is a required question" box if the question is mandatory.

In the "Visibility" field, click the dropdown and choose the access level of the hiring team members who should see this additional question.


You can select from three options:

Only Recruiters

Only Recruiters & Hiring Managers

Everyone on the Hiring Team

Learn more about managing your hiring team's access here.
Hiring team access level and visibility on the applicant's profile
In the applicant's profile, an "eye" icon will appear above each question and indicates which hiring team members have access to the responses.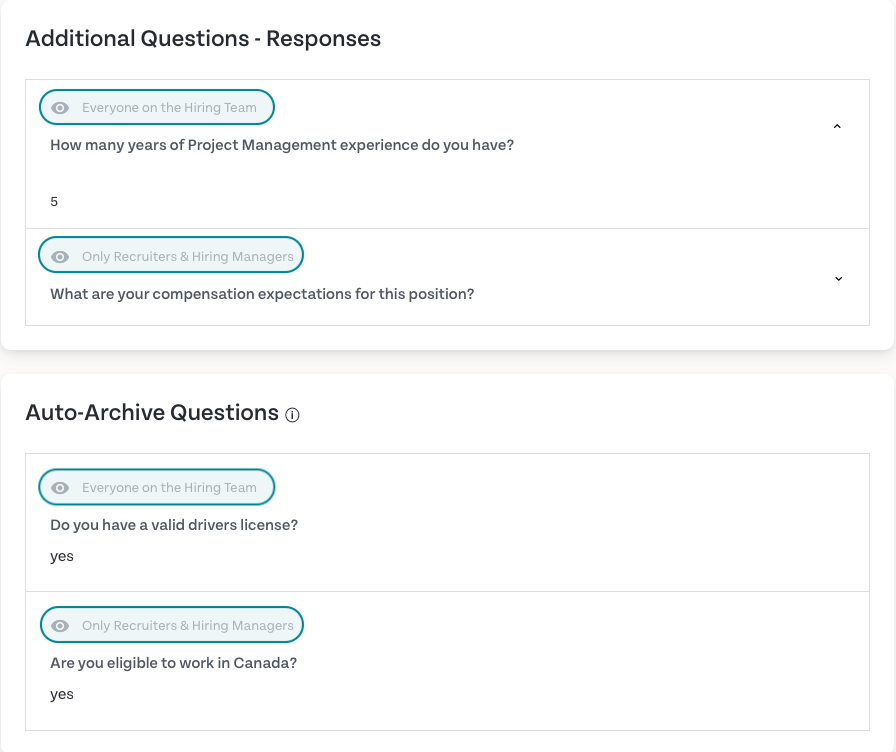 Note
This process is the same for adding auto-archiving questions.
What are auto-archiving questions?
Auto archiving questions help you filter your applicants. These questions should be structured as "yes/no" questions so i
f an applicant answers "no" to any of these, they will automatically be archived within the Humi system.
This means that Humi will still process their application, but they will not appear within the funnel for the job posting they applied for.
If you want to see any of the archived applicants, you can find them in the job posting's applicants tab (Recruiting > Job Posting > Applicants) using the "archived" filter in the "status" column.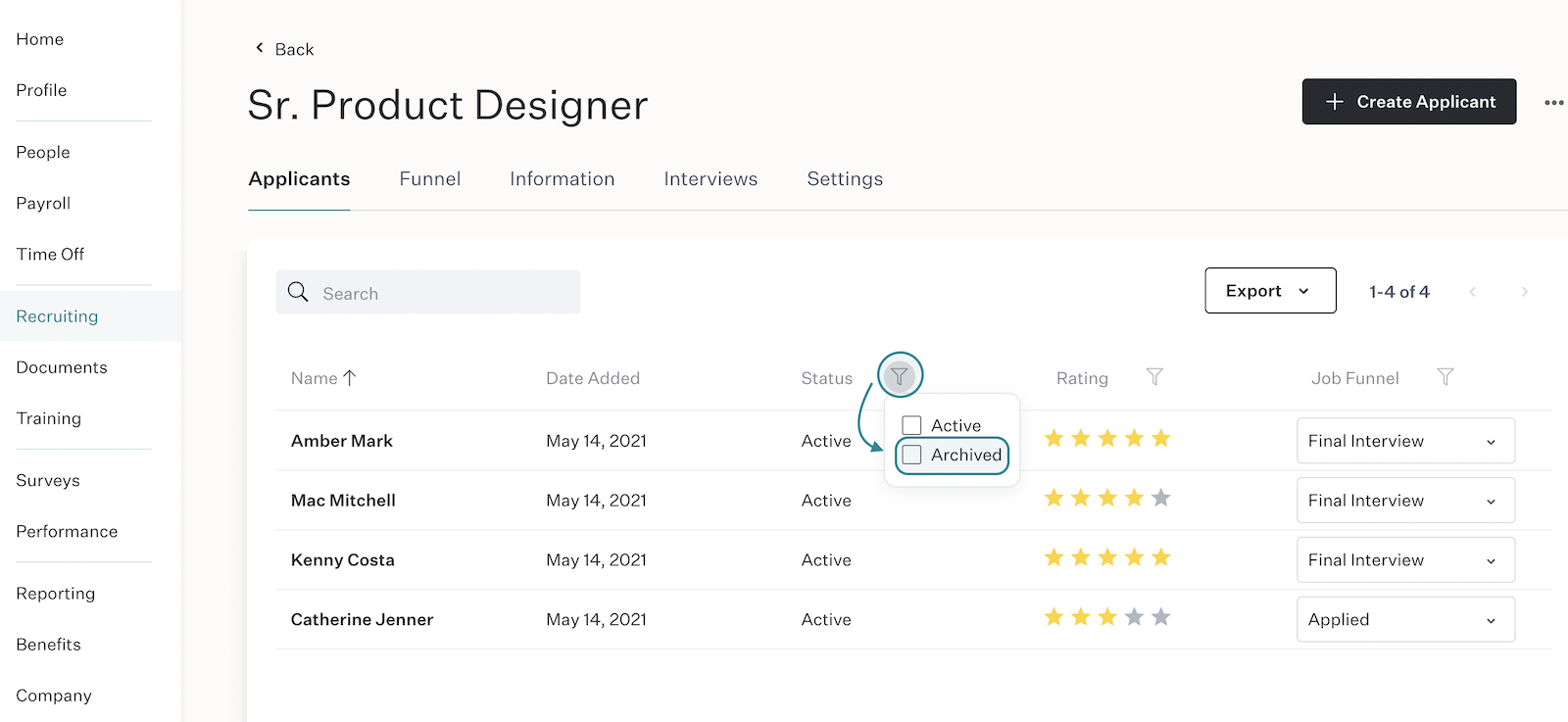 Required fields and Auto helpers
Step 5 has two sections to complete: "Required fields for applicants" and "Auto helpers."
Required fields for applicants
Because the basic applicant information you require varies greatly depending on the job type you're hiring for, you can use the checkboxes in this section to select the required information from applicants.
By default, the "Name" and "Email" fields are required, but you can make the remaining fields optional by unchecking them. All of these fields will still be displayed on the application, but they will not be mandatory, so applicants can skip them if they wish.
Auto helpers
In this section, you can enter keywords Humi will search for on your applicants' resumes. Humi will give the applicant a rating out of 5 stars based on the number of matching keywords.
Note that you can manually change the star rating of any applicant by clicking on the stars under the "Rating" column on the job posting's "Applicants" page.
Summary
In the last step, you can see a summary of the job posting you just created. If you need to make any changes, click the "Previous" button on the bottom left to go back to the previous pages and make any necessary changes.
Post to Job Boards
Your job posting will automatically be posted to your Humi job board, but you can check the box in this section to confirm if you want it posted to other job boards as well.
If you've set up your "Indeed Integration," it will automatically be checked here.

Once you've confirmed everything is correct and are happy with it, click "Publish Job Posting."
Congrats, you just created your job post!
Discover more about Recruiting