After a successful recruiting effort, you've found the best candidate for the position, and you can now "hire" the employee to add them to Humi. This article will walk you through how to add a new employee to Humi and explain the information required for each section.
How to add a new employee to Humi
To get started, head to People and click on the + Employee button in the top right corner. In the pop-up, select Hire Employee.

There are four steps to complete when adding a new employee:
Employee Information
On the first page, Information, enter the employee's account information, compensation, and the employee role. All fields with an asterisk are required fields and must be completed to move on to the next step.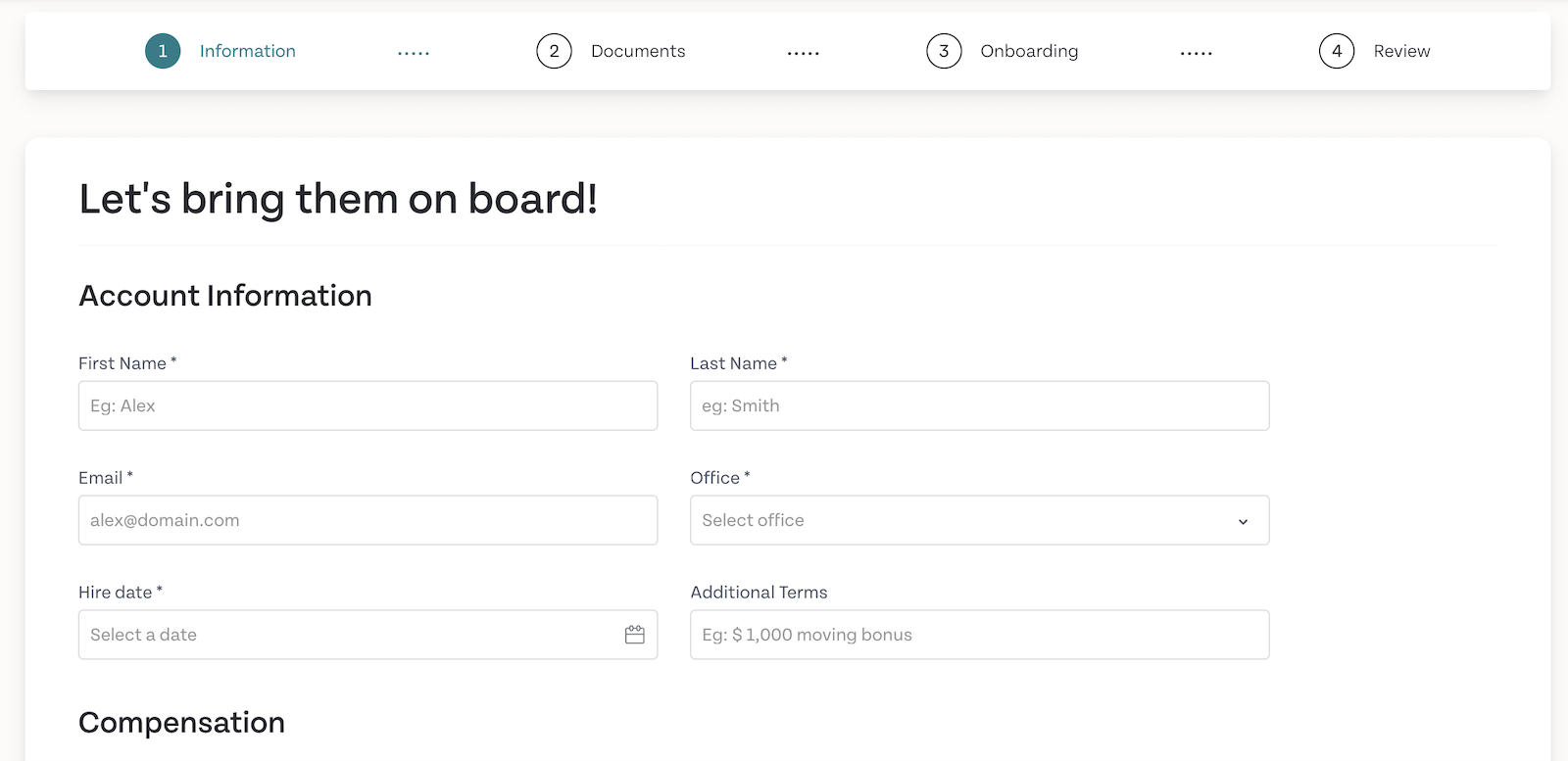 Humi Payroll Settings
If you do have Humi Payroll and you'd like to add the new employee, click on this switch to activate it, and the new employee's information will automatically sync with Humi Payroll.
If you have Humi Payroll and you would not like to add the new employee, leave this switch turned off.

Once you've completed all of the required fields, click Next to continue to the next step.
Choosing to collect an Employee's SIN
To help make Humi accessible for employees everywhere, you can choose whether you'd like to collect an employee's Social Insurance Number (SIN). If turned on, the employee will be required to enter their SIN during onboarding to complete the process. This setting is handy for hiring someone who is working as a contractor or an independent consultant or if you're hiring someone from outside of Canada.
Learn how to turn off employee SIN collection by following the steps below:

In

People

, under the

Directory

tab, click the "+ Employee" button in the top right

In the first step of the hiring process, scroll down to the

Employee SIN section

and make sure the switch is

turned off

and showing as the colour grey

If you won't be adding the new hire to Humi Payroll, you can toggle off the requirement to sync their information with payroll.
In

People

, under the

Directory

tab, click the "+ Employee" button in the top right

In the first step of the hiring process, scroll down to the

Humi Payroll section

Ensure that the toggle for

"Automatically sync employee information with Humi Payroll" is turned off

and showing as the colour grey

This will automatically turn off the requirement for the employee SIN as well
Important note: Do not sync to Humi Payroll
When you add the consultant as an employee in Humi, DO NOT switch on the Humi Payroll switch if you don't intend to pay them through Humi Payroll. Only employees paid through Humi Payroll can be added to Payroll reports.
Onboarding Documents
If you have documents that require the new employee's signature or acknowledgement, you can add these documents here. For example, you can include the employee handbook or health and safety policies.
Note
You can't upload new documents. They should already be in your "Documents Directory" to be selected here.
The employee must sign or acknowledge any documents added here before they can complete onboarding and become active within Humi.
You can also preview and edit documents that you've added if you want to verify or adjust them as needed.
Note: Any edits made here will not affect the original template and are only one-time edits for the specific employee.
Onboarding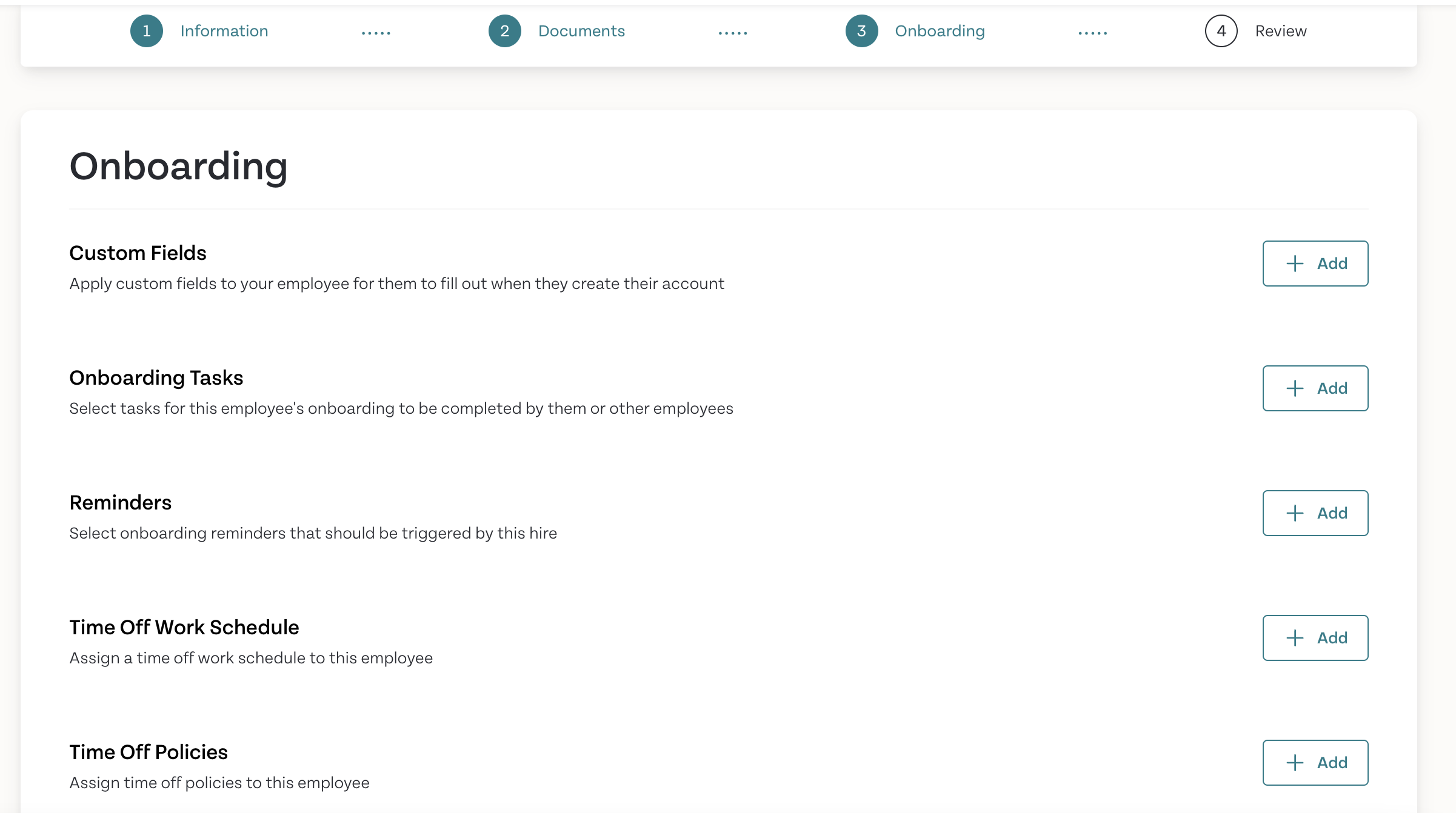 Use the + Add button to add existing items to any category.
Custom Fields – If you have custom fields that you would like to add to the employee's profile, such as a parking spot number or t-shirt size, you can add all relevant custom fields here. Learn more about custom fields.
Onboarding Tasks – Add onboarding tasks for your employee, manager or other colleagues to complete for a successful onboarding experience. Learn more about onboarding tasks.
Reminders – Select onboarding reminders that this hire should trigger.
Time Off Work Schedule – Choose the work schedule to which this new employee should be assigned. The work schedule will define things such as weekends and holidays. Learn more about creating and assigning "Work Schedules."
Time Off "Policies" – Add the time off policies relevant to this new hire. You can specify a starting balance or leave it at zero, which is most commonly used. Learn more about Time Off "Policies."
Roles and Permissions – All employees will have the "employee" role by default; however, you can add it here if the new hire needs a manager or a custom role. Learn more about roles and permissions.
Training Programs – Add training programs the new hire is required to complete. Learn more about "Training."
Benefit Plan – Add your benefits plan for the employee. Learn more about "Benefits."
If you need to make changes to any of the items added here, you can do so from the new employee's profile after it's been created.
Review
This is the final step to adding a new employee to Humi. Review the information you've entered and choose if you want to send a hiring questionnaire here and if you want to send a custom welcome message. If you haven't set up any hiring questions, you'll need to set them up first. Learn more about Onboarding Settings here.
If you send the hiring questionnaire, the employee will receive the questions during their onboarding. By default, Humi sends a welcome email to your company letting them know a new employee has joined and will include their answers to the hiring questionnaire. We highly recommend adding fun questions that will act as an ice-breaker.
The invitation email will contain a "token link," which will direct them to create their Humi password, sign in to Humi using their username (email address) and password, and start onboarding.
You've successfully added a new employee to Humi! If the employee hasn't started their onboarding or lost the invitation, click here to learn how to resend the "Onboarding Invitation."
Discover more about People