In "Documents," you can add reusable document templates or "view-only" documents which you can assign to one or more employees.
There are three types of documents you can upload:

Offer Letter Template – contains personalized fields that you can easily customize for each candidate.
Signing Templates – a reusable template for documents that require signatures from employees.
View-Only Document – a non legally binding document that employees can view or acknowledge.
Learn more about "Document Types" here.
Adding documents
For documents that require an employee acknowledgement or signature, there are two steps to complete:
Step 1 – Add the document in Humi and format it using the "Template Editor" to add annotations such as signature fields, dates, etc.
Step 2 – Assign the document to employees to sign or acknowledge
If you're adding a general "view-only" document to a shared drive, it'll be available to all employees immediately after you upload it.
Step 1 – Adding documents in Humi
To create your template using the template editor, your "signing" document should be formatted with blank spaces in the places where you'll require signatures, dates, initials, etc. That way, when you upload the document into Humi, you'll have the space needed to add these fields from the "Template Editor."
Learn more about the template editor in this complete guide to using the "Template Editor."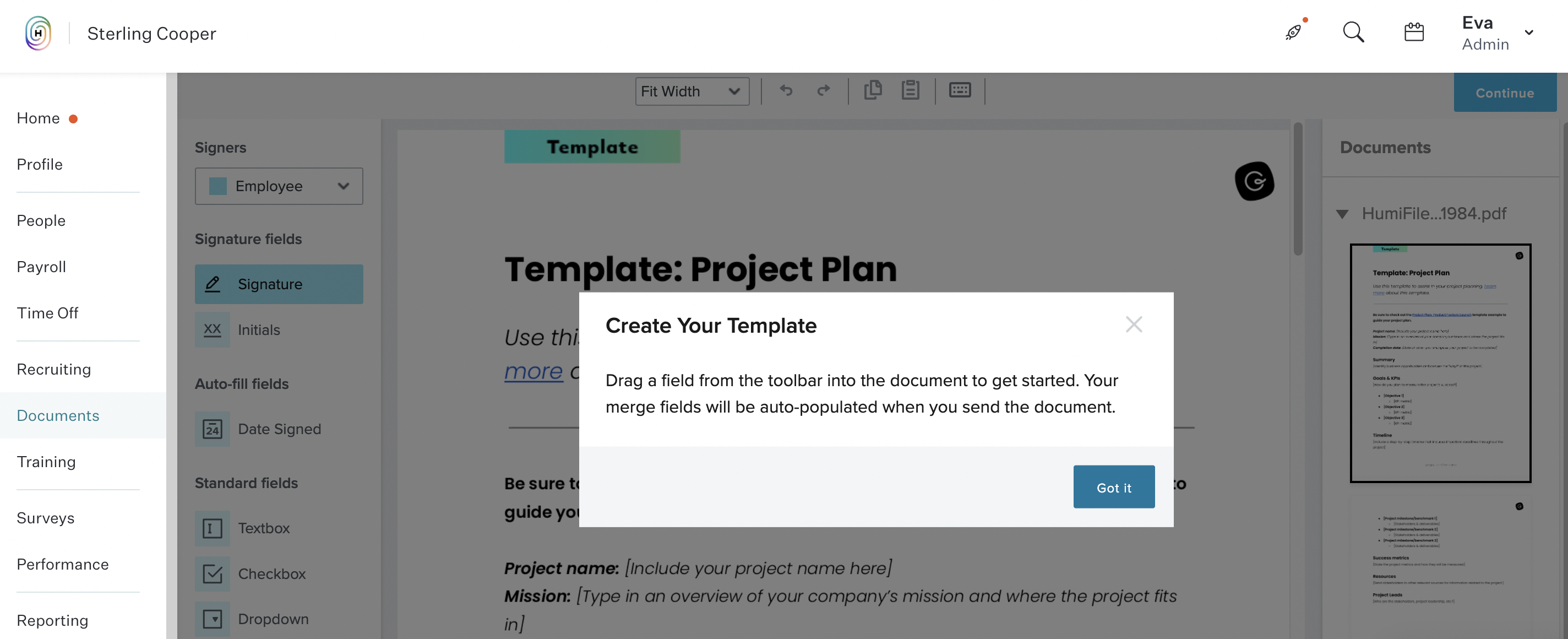 To help, we've created these in-depth step-by-step guides for setting up your "Offer Letter" or "Signing" document templates.
You can add documents to Humi from two places:
The "Documents" module
Directly to a specific employee's profile.
Add documents from the "Documents" module
In "Documents," click the "+ Add Document" button and choose the document type you need. All documents added here can be reused and assigned to multiple employees.
Add documents directly to a specific employee's profile
If you have employee-specific documents, you can add them directly to your employee's profiles. In addition, you can choose the "Roles" who'll have access to the document's visibility from the employee's profile.
For example, suppose there's a warning letter you want to add to an employee profile, but you don't want the employee to be able to see it. In this case, you can add it to their employee profile and select the "Manager or Admin" roles access to the document visibility. Humi will add the document to the employee's profile, but the employee won't be able to see it.
Learn how to add documents directly to an employee's profile.
Step 2 – Assign documents to employees
Once you've added your offer letter template, signing template or view-only document, the next step is assigning it to the employees you require to sign or acknowledge they've read it.
Use these links to find the article you need:
Once you've assigned "signing" documents to employees, the fields added using the template editor will auto-populate with employee-specific information pulled from their employee profiles.
When sending the offer letter from Humi, you'll be able to enter custom information in the fields you added to the offer letter (salary, date of hire etc.)
Document templates help you save time by creating one document that Humi can tailor to each employee using the template editor.
Learn more about document templates in this article, "How do document templates work?"
Discover more about Documents