As we all know (because we have it marked in our calendars and memorized...or not?), payroll is cyclical, meaning we get paid on the same pay schedule each time.
However, there are a few scenarios when you might need to make an additional payment to an employee outside of their regular payment schedule.
In this case, you can make the payment by creating an "Off-Cycle" payroll.
Aptly named, an "Off-Cycle" payroll is a one-time payment that's made outside of the regular recurring payroll schedule or off-cycle.
"Off-Cycle" payrolls are most often used for:
An urgent payment to an employee 
Any compensation owed that was missed from the regular payroll
While recurring payrolls are created automatically by Humi Payroll at the start of each payroll period, "Off-Cycle" payrolls can be made at any time.
This guide will cover the steps to create an "Off-Cycle" payroll and how to delete it if necessary.
Note
If you've already created an off-cycle payroll and would like to know how to run an off-cycle payroll, click here.
 Before getting started
If you haven't previously created the required "Income Type" for this off-cycle payroll, it's best to do this before creating an off-cycle payment.
If there's no income type created, there'll be no option in the "+ Other Income" field.
If you don't want to set up the income type now, when you're in the next step of running the "Off-Cycle" payroll, you can click the "+ Other" link and get this pop-up where you'll be able to "Set Up Income Types" from here:
How to create an Off-Cycle payroll
Once your income types are created, and you're good to go, follow the steps below to create your "Off-Cycle" payroll:
Click on the "Payroll" module on the left menu.
On the top right corner, click on the "+ Create Off-Cycle Payroll" button.
Select the payment date. This is the date that you would like the payment to be made for this off-cycle payroll.
Note
You can also choose to add all employees to this off-cycle payroll if needed. If not, leave this toggled off. If the payroll is intended only for specific employees, you can add them individually once the off-cycle payroll is created.
Important Note:
Humi needs four business days to process payroll. You can create an off-cycle payroll with a pay date earlier than that, but this means that it will not be processed by direct deposit, and you will have to pay your employees by cheque. 
For example, if you would like the pay date to be Friday, November 12th, you must complete the off-cycle payroll four business days before that date which is Monday, November 8th. 
So remember to create the off-cycle payroll a minimum of 4 days before the intended pay date.
4. Click "Save" to create the off-cycle payroll
That's it! You've officially created the "Off-Cycle" payroll! Next, you'll be directed to the "Edit Payroll" page that looks like this: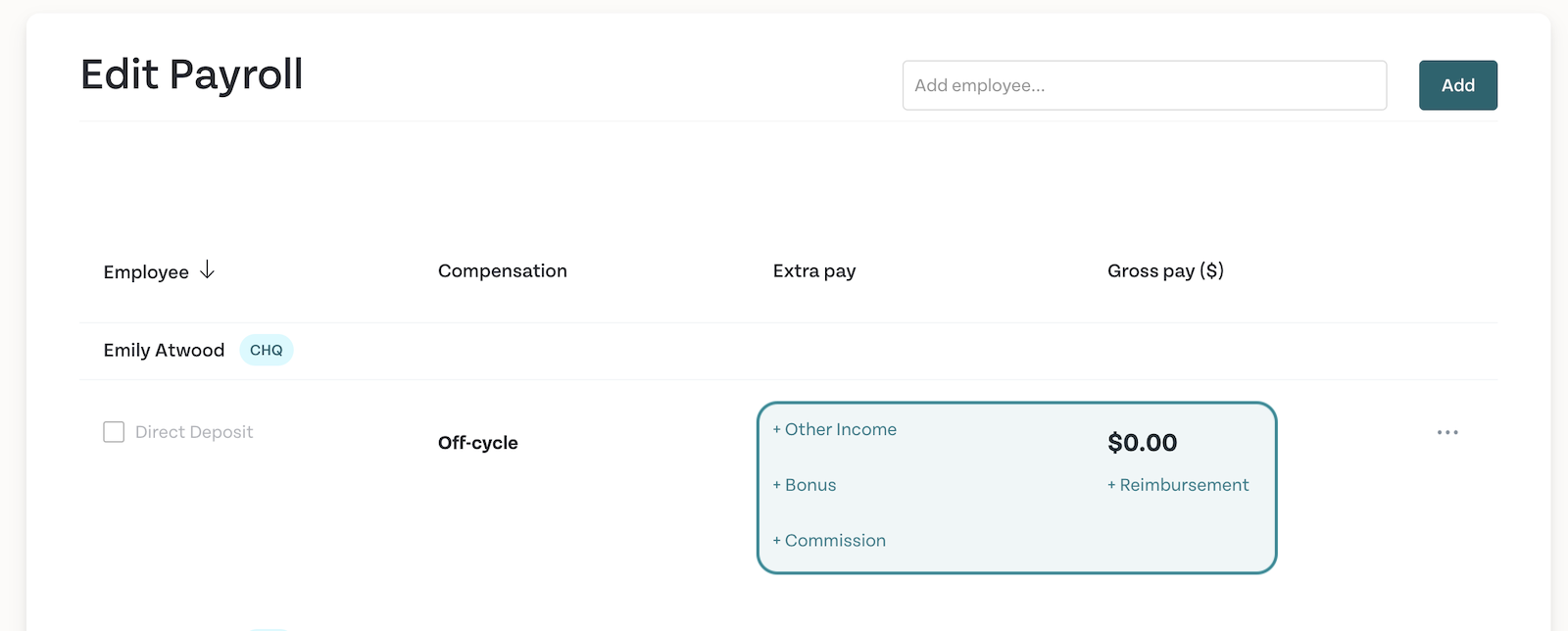 Discover More About Payroll