We know that terminating an employee can be stressful; it's the end of a relationship that didn't work out.
It can be especially difficult if there are outstanding payments that you owe the terminated employee like severance, commissions, or any other type of payment.
We're here to ease the transition. With an "Off-Cycle" payroll, you can quickly pay a terminated employee in a few short steps.
Important Note
Instead of rehiring a terminated employee in Humi and then terminating them again for processing outstanding payments, we highly suggest using an "Off-Cycle" payroll instead.
How to pay a terminated employee
Click on the "Payroll" module on the left menu.

On the top right corner, click on the "+ Create Off-Cycle Payroll" button.

Select the date that you would like the payment to be made to the employee for this off-cycle payroll.


Important: Leave the "Add All Employee" switch toggled off.


Note:
If you toggle the switch on to "add all employees," only active employees will be added to the "Off-Cycle" payroll which defeats the purpose because the terminated employee would not be included.
By keeping the "Add All Employees" switch toggled "off," you'll be able to add the terminated employees from the drop-down on the next step.
4. Click "Save"
5. In the "Edit Payroll" page, click on the "Add employee" field to find the terminated employee. You can either type their name in the search box or scroll to the bottom of the employee list where all terminated employees will show up.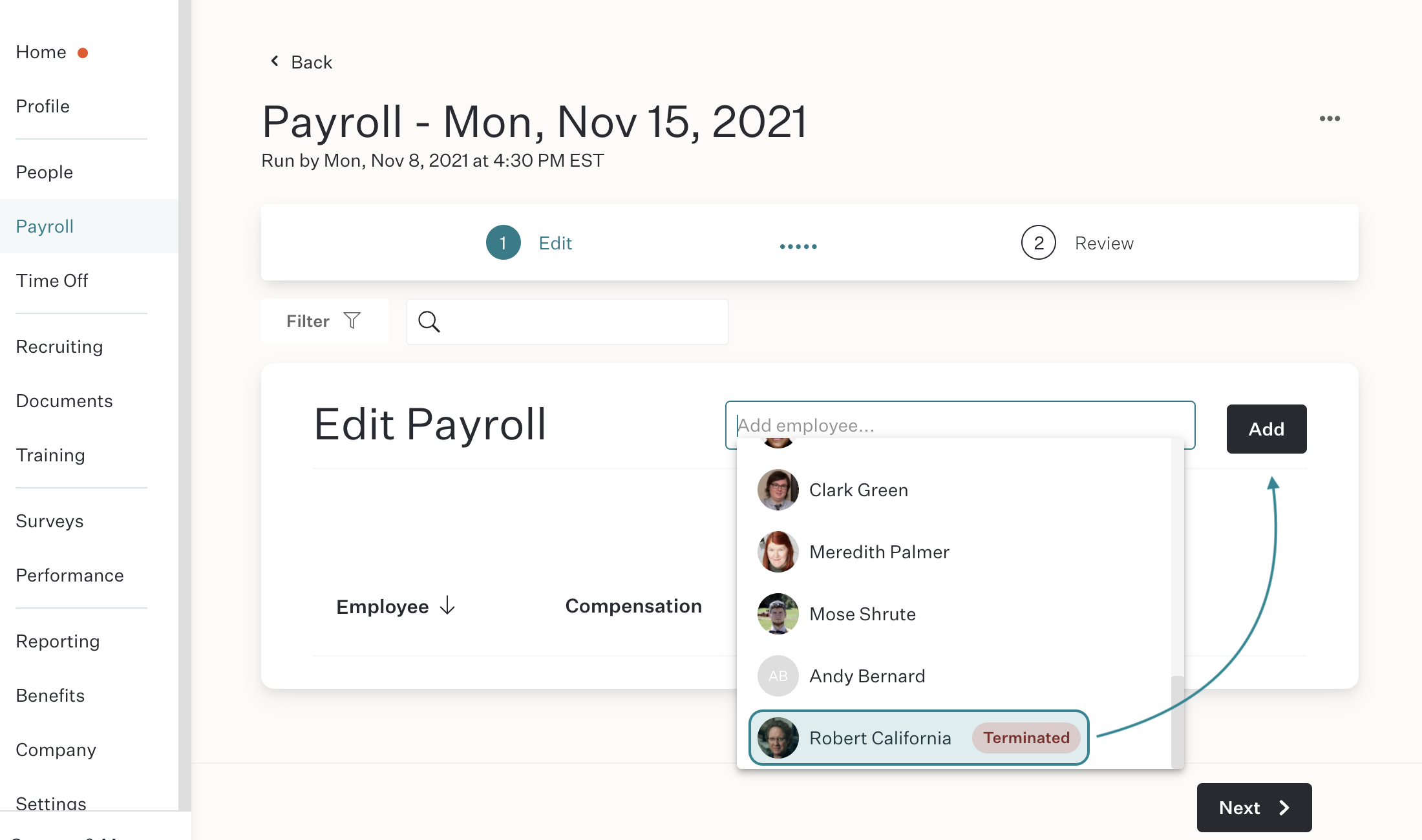 Next to their name, you'll see a "Terminated" badge. Select the terminated employee and click the "Add" button. The terminated employee is now added to the "Off-Cycle" payroll.
6. Enter the outstanding payment amount in the correct field then click "Next."
Important Note
You can only create an off-cycle payroll for "Extra pay" or "Reimbursements," not for regular compensation.
If the payment is not a "Bonus" or "Commission" and you haven't previously created the required "Income Type" for this "Off-Cycle" payroll then there won't be any options in the "+ Other Income" field.
When you click the "+ Other Income" link, you'll get a pop-up with a "Set Up Income Types" button in the bottom left corner. Once you set up the income type, you'll be able to add the payment amount in the "+ Other Income" field.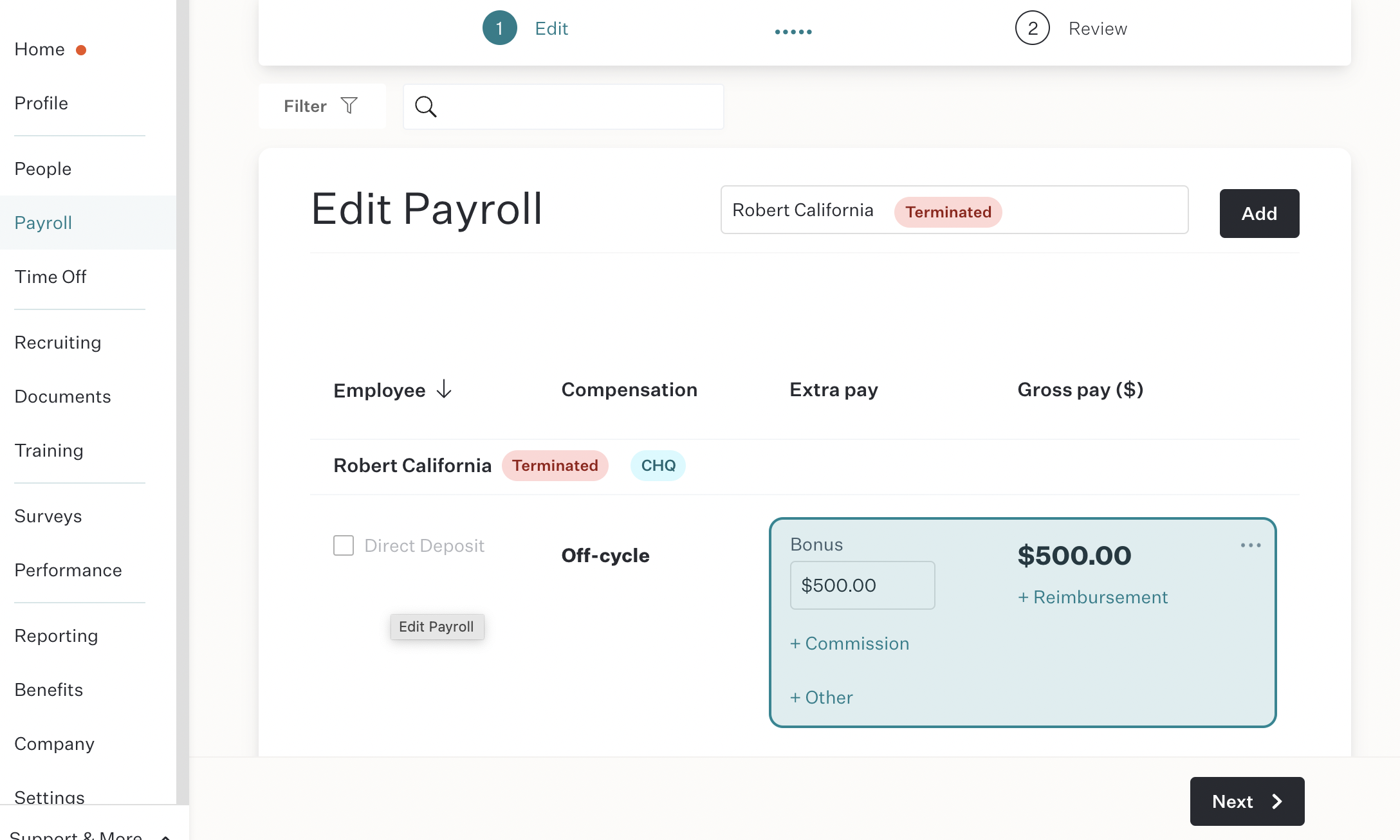 After you've clicked "Next," you'll now get a pop-up indicating updates that may be necessary for the ROE after you've completed the off-cycle payroll. See our help article for How and When to Update an ROE.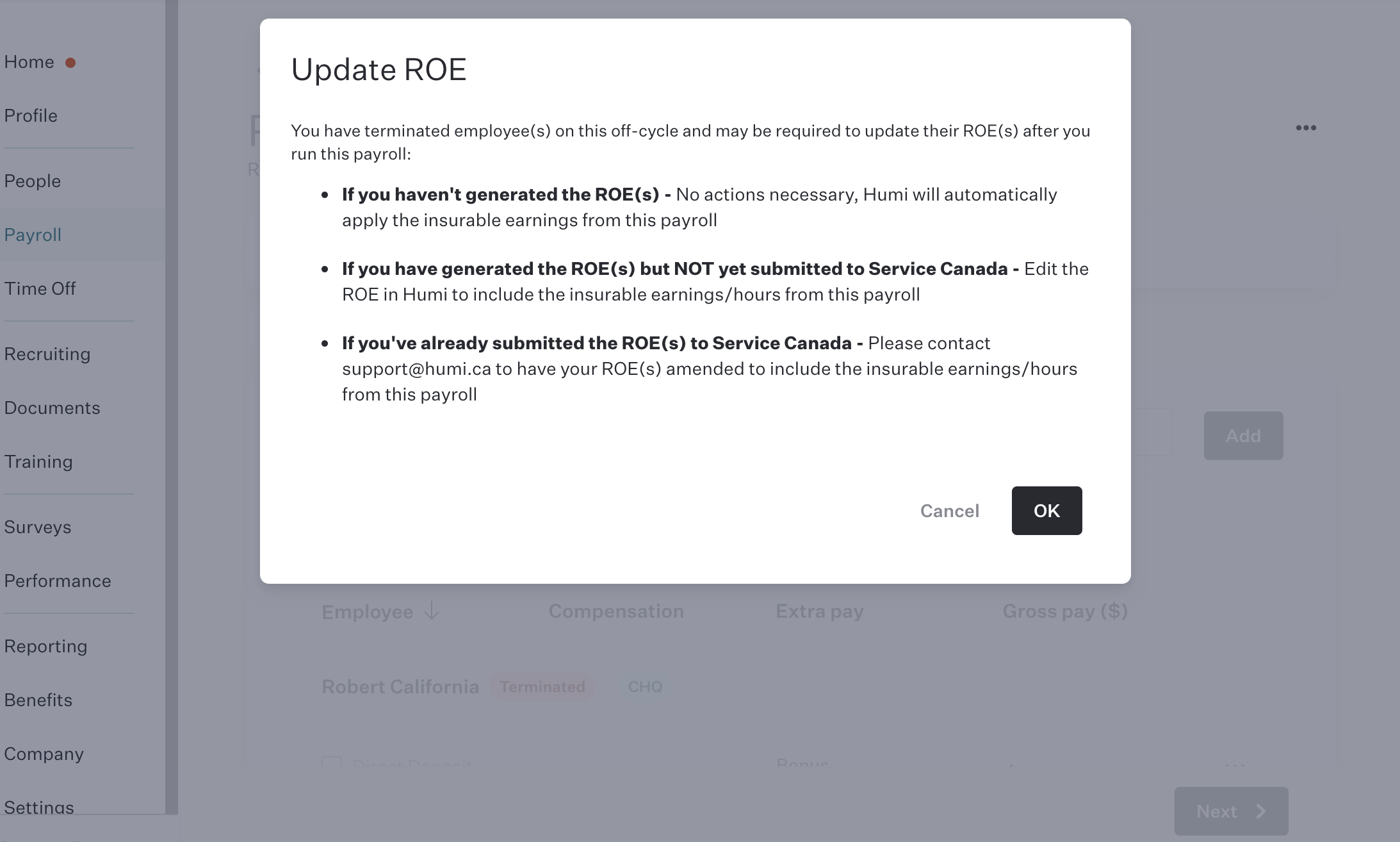 Review the payroll obligation, and then click "OK"
7. Finally, select "Complete & Pay" to run the payroll.
Important Reminder
Don't forget to update the terminated employee's ROE(s) as needed!
That's it, you now know how to pay a terminated employee using an "Off-Cycle" payroll!