If you need to change your password, update your profile picture, or add another email address to your account, accessing your basic account settings is a few simple clicks away.
In Profile, you'll find the Account tab, where you can manage the settings and details of your Humi account. Have a look through the tabs below to learn more about each section.
Your Profile Picture allows you to show up in Humi as your best self, whether you display a beautiful headshot or a fun, adventurous selfie! Your profile picture will show next to your name in places all over Humi, so make sure to choose a good one.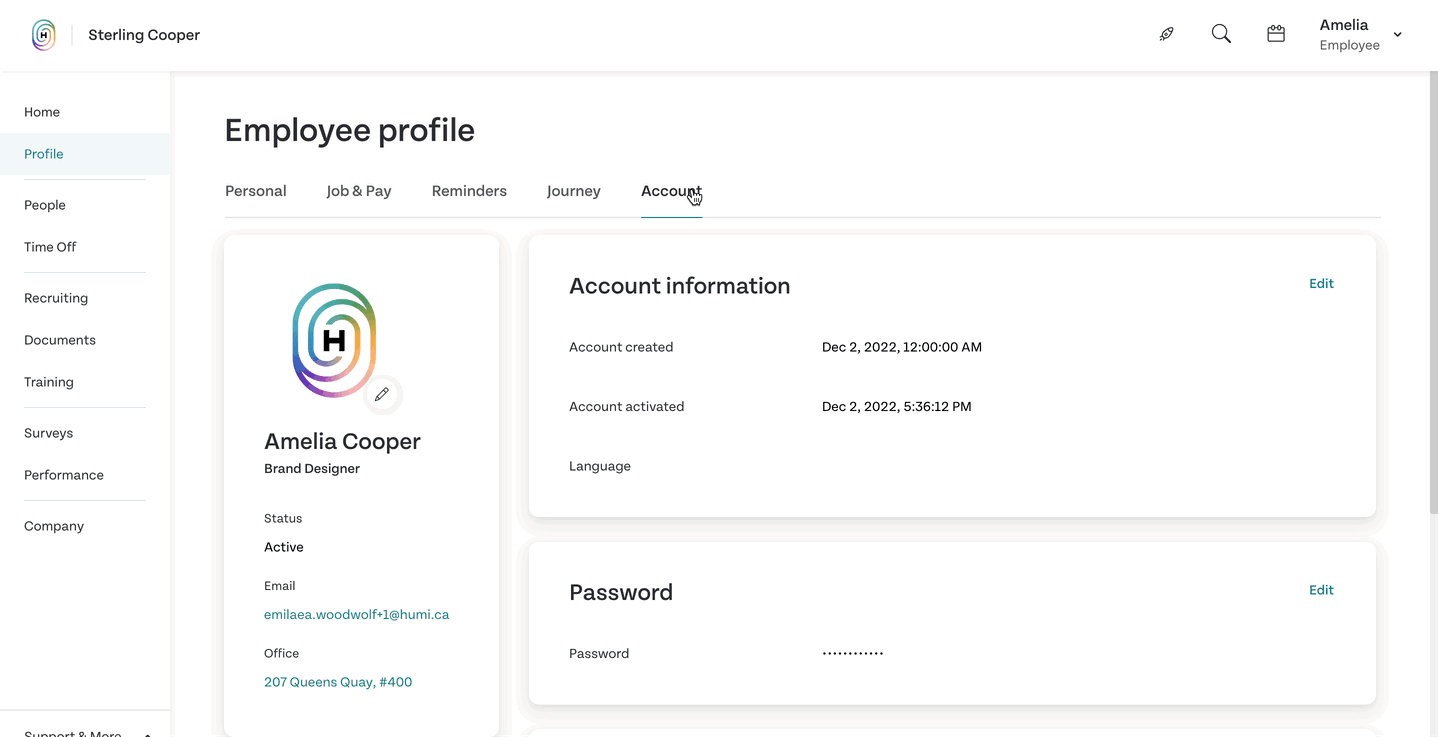 How to upload a profile picture:
To upload a profile picture, click on the pencil icon above your name
In the pop-up, you can drag & drop your image right into Humi or click "Browse Files" to select an image from your computer
Once you upload your image, use the crosshairs to draw a circle around the area of the image you'd like to use
When you've decided on the size of the circle, you can drag it around the image to fine-tune your selection
When you're happy with the result, hit "Save" to add your profile picture to Humi
Note
If you decide you don't like the picture you've chosen, click anywhere outside the edit window to cancel the upload. Keep in mind once you click save, and your profile picture has been added to Humi, the only way to remove it is to replace it with a new image.
The Account Information section is where you can find details about when your account was created and activated. This section also allows you to toggle between English and French as the displayed language for your personal view of Humi. Don't worry–this doesn't affect the default language of your Company's settings.
How to change your default language:
To select your preferred language, click the "Edit" button in the top right
Use the pop-up to choose English or French from the dropdown options
Hit "Save," and Humi will automatically update to display in your desired language
The Password section is where you can manage the password you use to log in to Humi.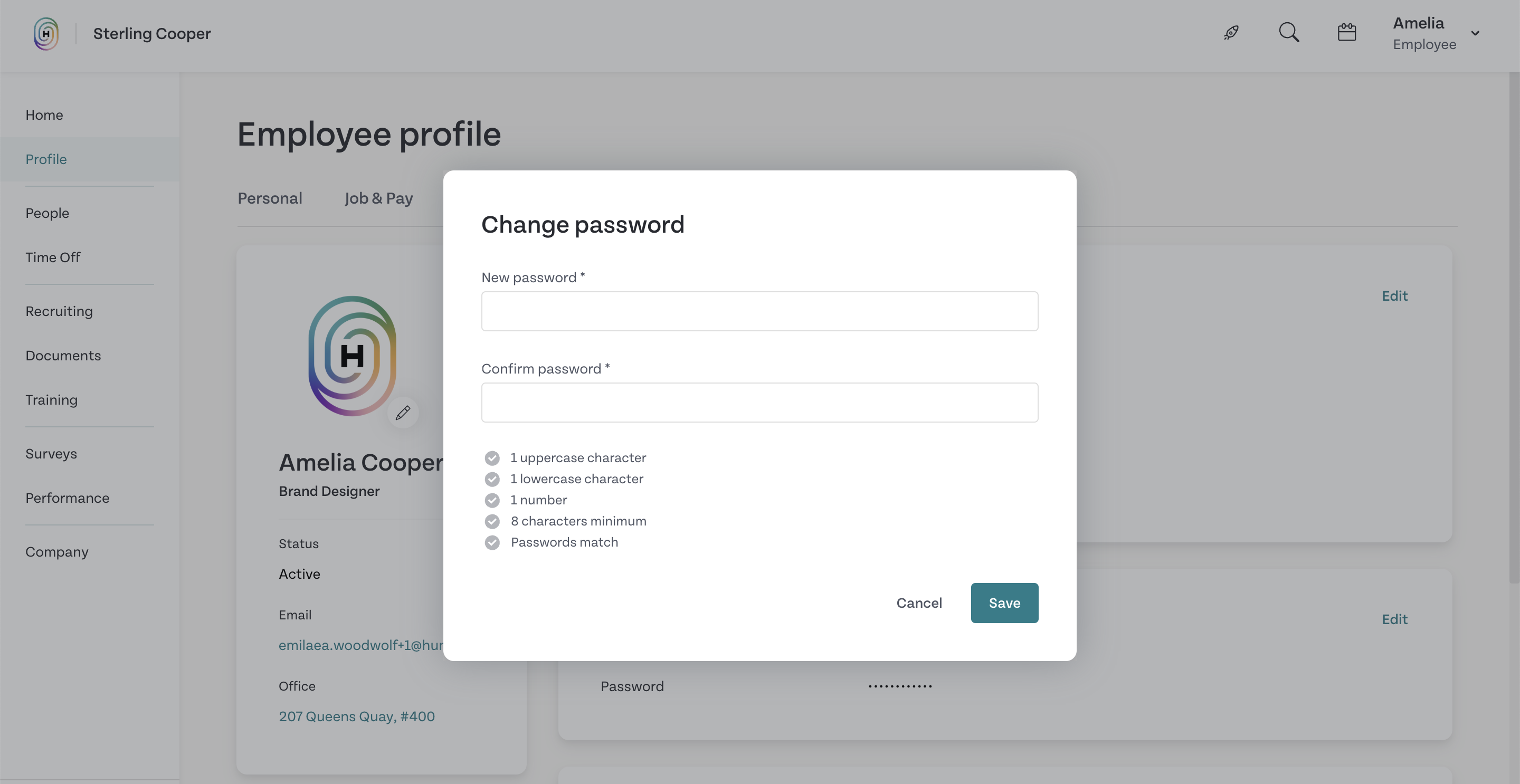 How to update your password:
To change your password, click the "Edit" button in the top right
In the pop-up, enter your new password
Hit "Save" to update your password in Humi
Note
If you would like more detailed instructions on how to update your password, please click here.
Important Note
Any changes to your password will take effect immediately upon hitting "Save."
The Emails section allows you to view, add, edit, or delete the email addresses connected to your personal Humi account.

What is an Email Status:
The status of an email address indicates what that email is being used for in Humi. Have a look through the three possible statuses below to learn what each one means:
Status
Description
Primary

This address receives all the Humi notification emails for your account whenever something happens in Humi, whether an announcement from management or a change to your account details.

You can use this email to log in, check notifications, and stay up-to-date on your account.

By default, the primary email address will be the same as the one used to create your account.

Verified

This address is verified but not set as the primary email. This means that it can be used to log in to Humi, but you won't receive any email notifications to this address.

Unverified

This address is pending email verification. You won't be able to use this email to log in to your account until the email address is verified.

To verify an email address, you can check your inbox for an invite from Humi. Be sure to look in your spam and junk folders, just in case!
Note
You can change the emails in your Humi account at any time. To learn how to add or update an email in your Humi, click here.
Discover more about Humi