Summary
Settings > "Integrations" tab > Click the "Connect" button on the Indeed section > Log in to Indeed > Grant Humi access to your Indeed user account > In Humi, select the Indeed "company" account to integrate or create a new one here if you don't have an existing company account > Next > Integration is completed
In "Settings," click on the "Integrations" tab.

On the "Indeed" section, click the "Connect" button.
Click the "Log in with Indeed" button.
4. You'll be redirected to Indeed, where you must log in to your Indeed user account. If you don't have a user account, you can create a new one and continue with the integration.
5. Once you sign in, you'll need to give Humi access to your Indeed account in order to complete the integration.
Important note
Your email address must be authenticated with Indeed for the integration to be approved. If it hasn't been authenticated, you'll get an error message like the below:
To fix this, go into your inbox and find the authorization email, or log in to Indeed to resend the authorization email to yourself.
Connecting your Indeed company account to Humi
After completing the steps above, there's one more thing to do for the Indeed integration to be completed.
Humi has now integrated with your Indeed "User" account, but we still need to connect to your Indeed "Company" account.
After you've granted Humi access to your Indeed account, you'll be automatically directed to this page if you already have a company associated with your Indeed account:
Select the Indeed company account you want to connect to Humi from the dropdown menu and ensure that the "Post all eligible jobs to Indeed when the integration is complete" check box is checked off.
If you don't have an Indeed "company" account associated with your Indeed "user" account, you'll be directed to this page in Humi: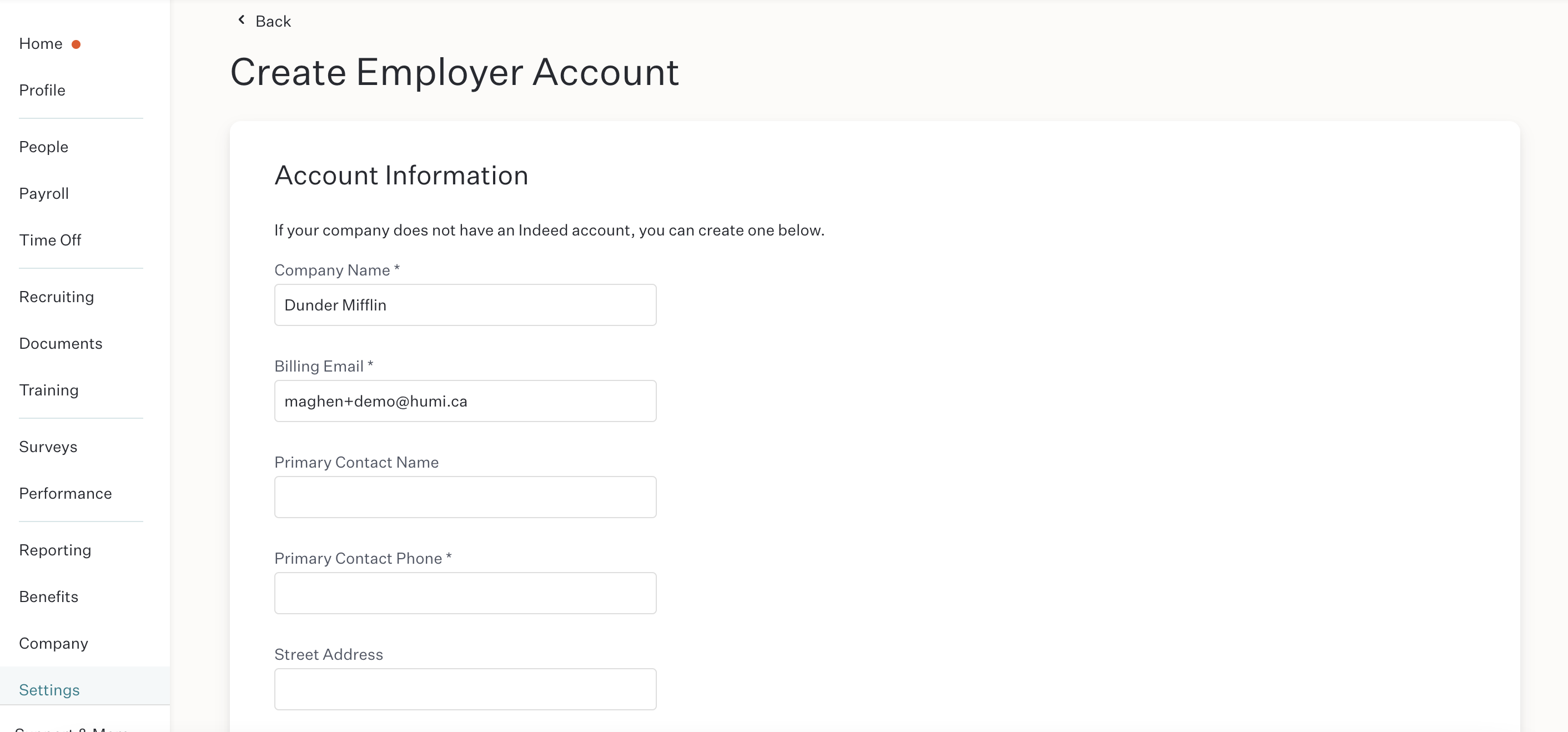 Fill in the information to create your new company account, which will be linked to Indeed.
Indeed Quick Apply
If you check this box, applicants can apply to your job postings using Indeed's quick apply feature.

Enabling Indeed Quick Apply can result in more applicants; however, it will allow applicants to apply only with their resume and will remove any custom questions and required documents (cover letters, etc.) you set up for the job posting. Learn more about Indeed Quick Apply here.
Once completed, click the "Next" button to finish the integration.
The Indeed integration is now completed and you'll see a "Connected" icon below the Indeed section in the "Integrations" tab.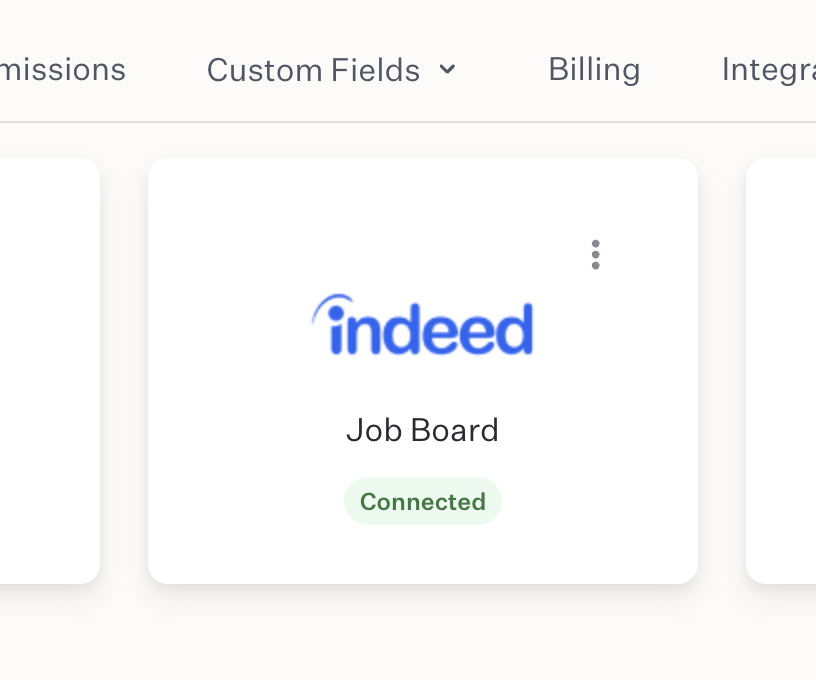 To check that the integration is working, navigate to "Recruiting" and click on any of your active job postings. Click the "Information" tab and scroll down to the "Job Boards Integrations" section in the job posting.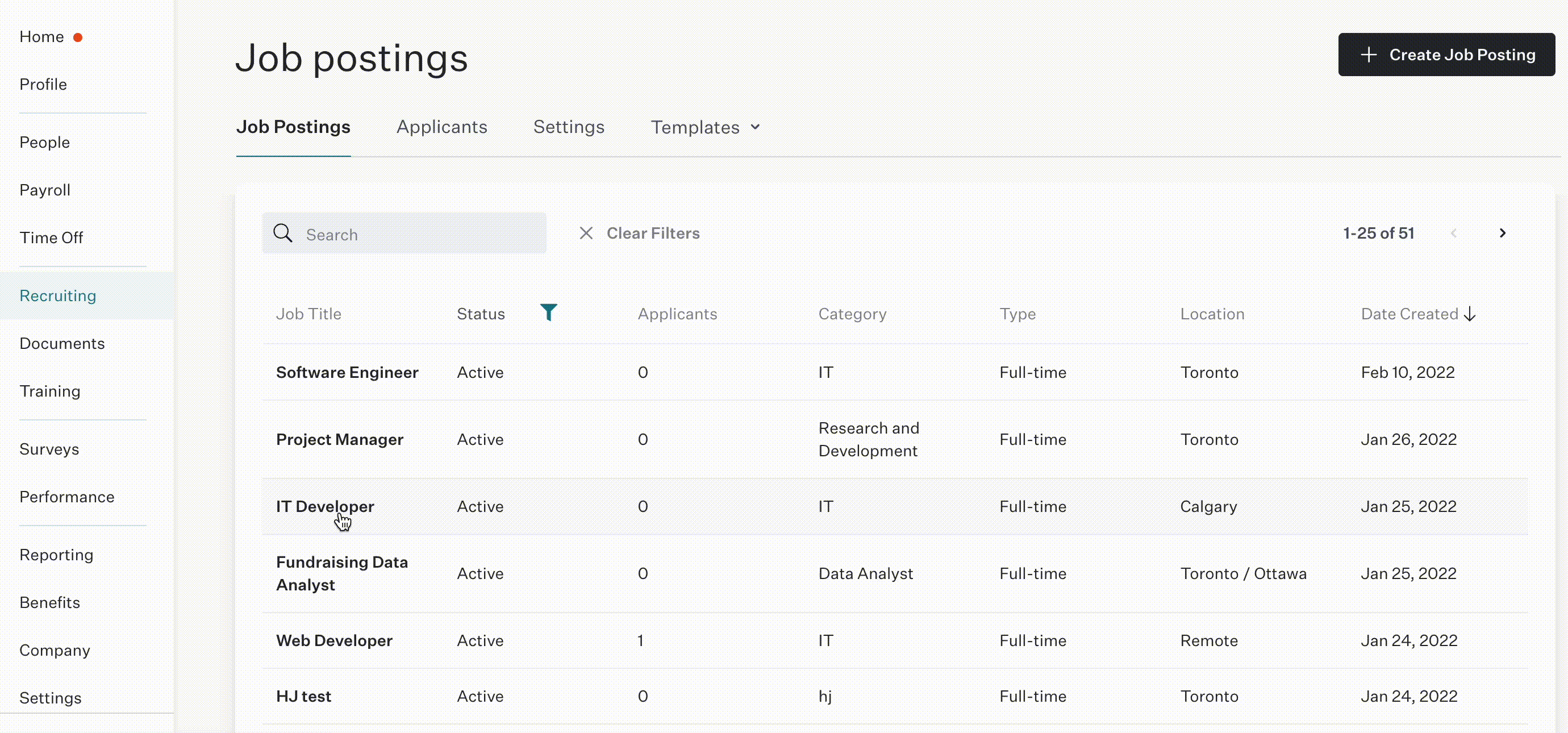 It should now have the Indeed switch toggled on and have a link under the "Posting Link" column.
Important Note
If you need to edit your job post after it's been posted, all changes must be done in Humi to be reflected on Indeed. If you make any changes to the job post on Indeed, the changes won't sync with Humi.
If you have existing postings or applicants already on Indeed before setting up your integration, please be aware that the posting will need to be recreated for applicants to be automatically added to Humi.
Bulk sync active job postings to Indeed
You'll see this check box which asks if you want to sync all of your Humi job postings to Indeed. If you check this box, all of your Active jobs in Humi will be posted to Indeed once the integration is complete.
Troubleshooting Tips
Sometimes there may be errors with the Indeed integration from Indeed's side of the connection.
To learn more about a few common issues that may arise and how to solve them, check out this article on "Indeed integration troubleshooting tips."
Discover more about Recruiting