All Canadian employees are entitled to "Vacation Pay" and "Vacation Time." Although vacation pay and time are related, employers are required to track them independently, and the compliance requirements for each are different.
In Humi, you can track your employees' vacation pay and accruals in the "Payroll" module, and your employees' vacation time and accruals in the "Time Off" module.
To configure vacation pay settings for your employees, you must first complete these two steps.
1. Add "Vacation Pay Percentage" to the employee's compensation(s)
For Humi to track your employee's vacation pay and accruals, you must set up their "vacation pay percentage" when creating their compensation. For a refresher on creating compensations in Humi, check out this step-by-step guide.
To add the vacation pay percentage, click the "+ Vacation pay" link, enter the percentage in the field, and click "Save."
2. Set the "Vacation Payout Method" for employees
After setting the vacation pay percentage, the next step is selecting the "Vacation Payout Method" you require.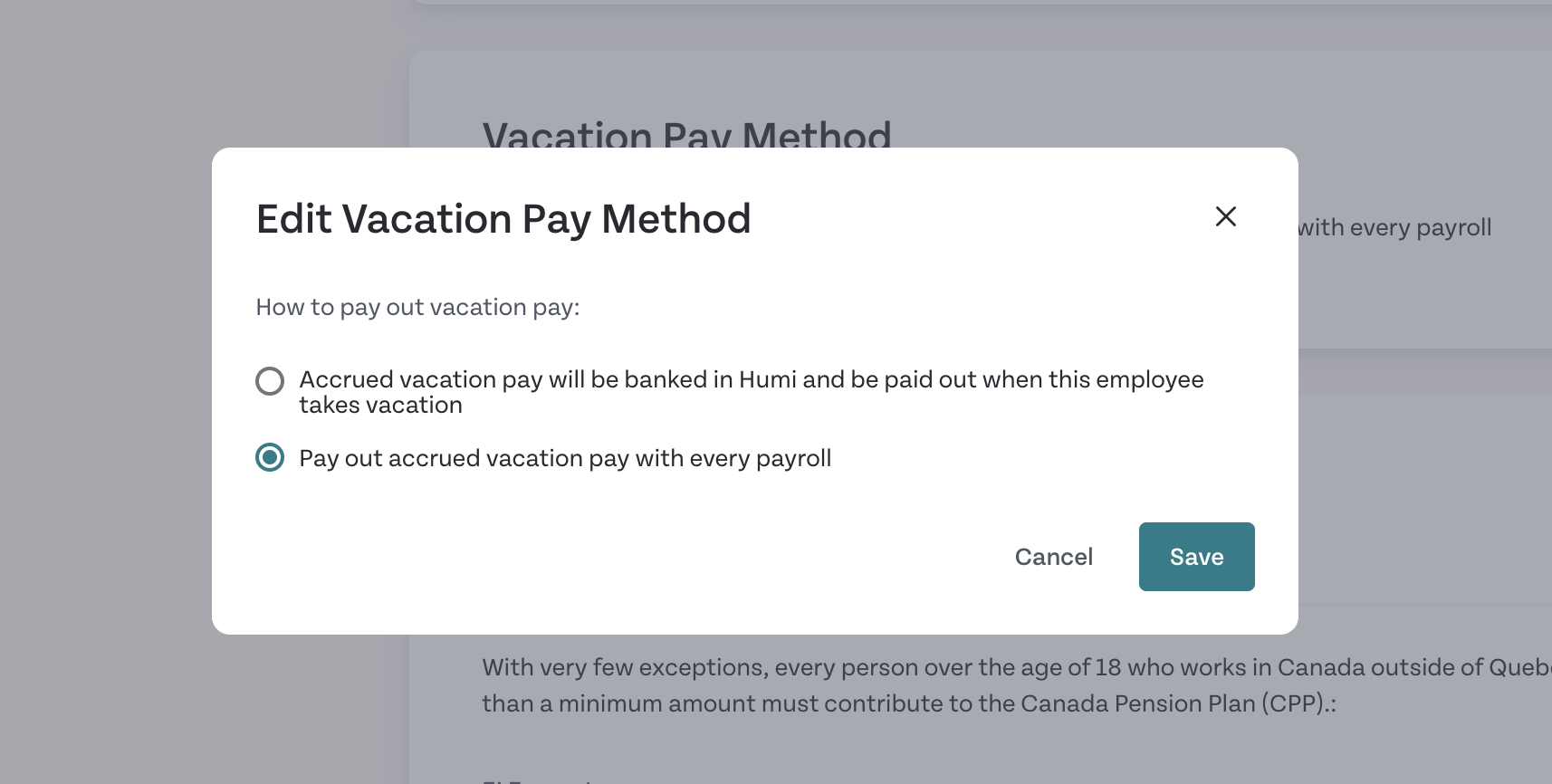 Humi offers two options for providing vacation pay to your employees:
Option 1 – Accrued vacation pay will be banked in Humi and be paid out when this employee takes vacation.
Option 2 – Pay out accrued vacation pay with every payroll.

Note: If you select Option 2, employees with not be paid for any vacation days they request off. On the employee's paystub, under the "Vacation Pay" section, the "Spent" and "Accrued" amounts will always be equal since they are being paid out each payroll.
That's all there is to it; you've successfully configured your employee's vacation pay settings. Click on the links below to learn more about vacation pay in Humi.
Discover more about Vacation Pay