If you've noticed that your job postings aren't getting as much traction as you want, you can enable Indeed's "Quick Apply" feature to allow applicants to apply for your job with one click.
Applicants who've uploaded their resume to Indeed can apply for jobs by quickly clicking the "Apply" button, and Indeed will send their resume to the employer.
There are benefits and disadvantages to using Indeed quick apply:
Benefit: You can increase the number of applicants for an open job posting by removing friction and making it easier for people to apply.
Disadvantage: If the job posting had required documents such as cover letters, portfolios etc. or included additional or auto-archiving questions, applicants will be able to bypass these requirements. This can result in a higher volume of candidates that may not be suitable for the role.
You can enable Indeed quick apply for your job postings while setting up your Indeed integration. However, if you've already set up the integration, you can manage Indeed quick apply from the Integrations page in Humi.
Manage Indeed "Quick Apply" from the Integrations page
Summary
Settings > "Integrations" tab > Click the three dots on the Indeed card and select "Manage" > Check the box in the "Indeed Quick Apply" section

1. In "Settings," click on the "Integrations" tab.
2. Click the three dots in the corner of the Indeed card and select "Manage" from the dropdown menu.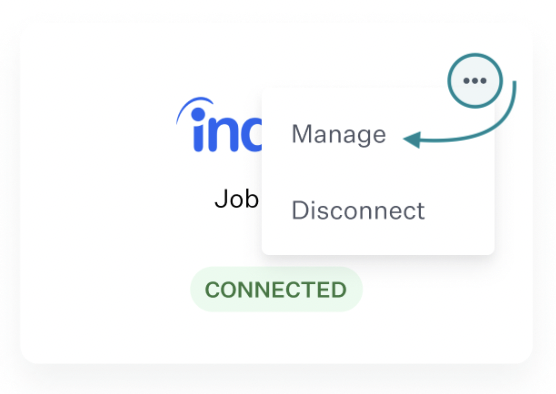 3. In the "Indeed Quick Apply" section, select the checkbox if you want to allow applicants to use quick apply for all active jobs or deselect it if you want to remove it.

Important note
If Indeed quick apply is enabled, you'll see a warning like this on the "Documents and Links" page and the "Questions" page when creating new job postings: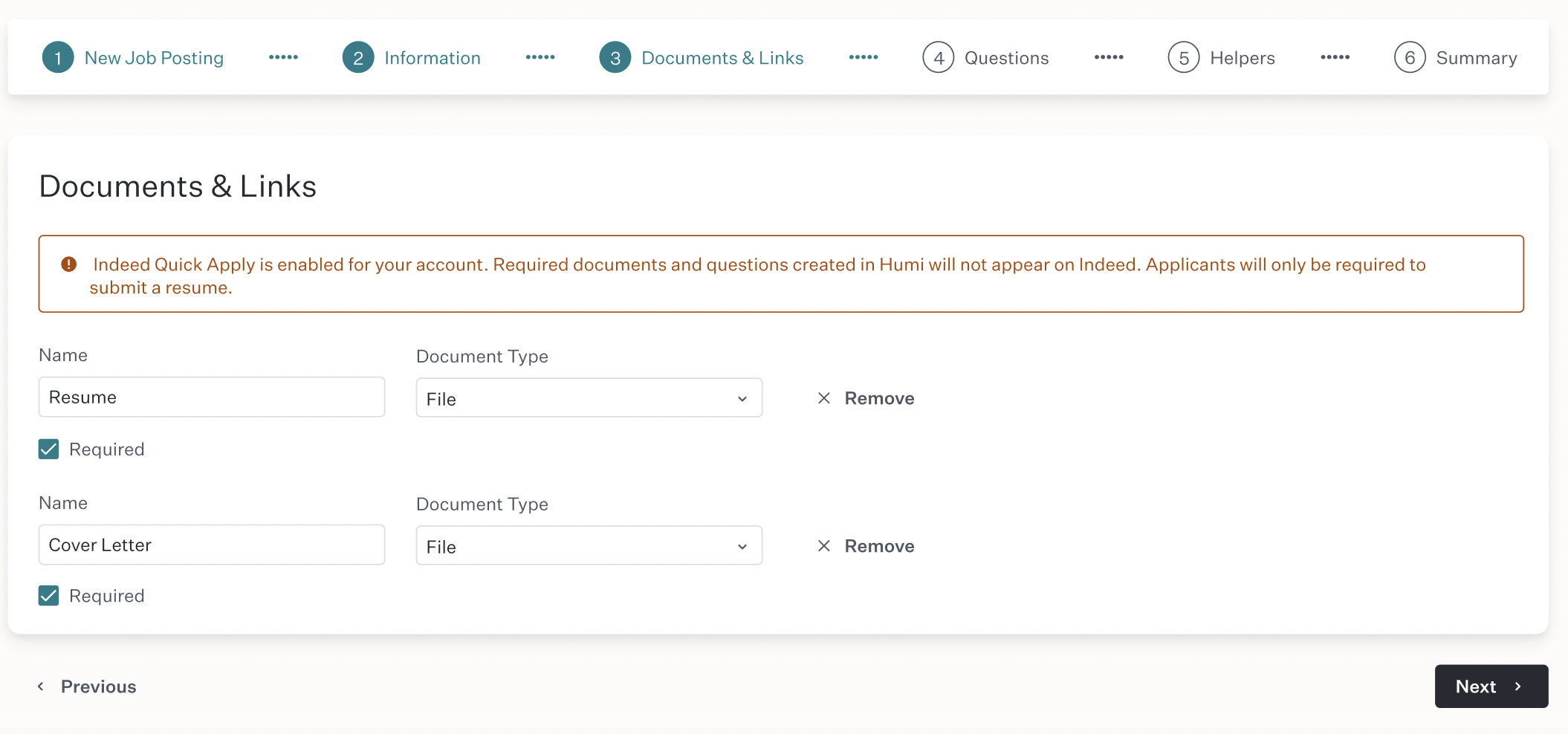 This is because with Indeed quick apply enabled, applicants can bypass these sections and are only required to submit a resume.
Also note, if you enable Indeed quick apply, all job postings will be affected.
If you enabled quick apply and want to disable it in the future, follow the steps above and uncheck the box in the "Indeed Quick Apply" section. Quick apply will be removed from all of your job postings.
Discover more about Integrations