We have a mixed relationship with notifications, they're useful reminders but the number of different notifications can be overwhelming.
Since Payroll is typically on the same schedule, if you want, you can adjust your Payroll notifications to reduce the number of notifications received.
To manage your payroll notifications go to "Payroll" and click the "Settings" tab.
Once there, you'll see the following sections:
Notifications
Company's Record of Employment Contact
Schedule
Notifications
Whenever a payroll is run and paid, a paystub is created for each employee that was paid within that payroll.
On Pay day, Humi sends an email notification to your employees letting them know that their paystub is available in the Humi app.
In this section, you can control whether or not you would like Humi to send these email notifications.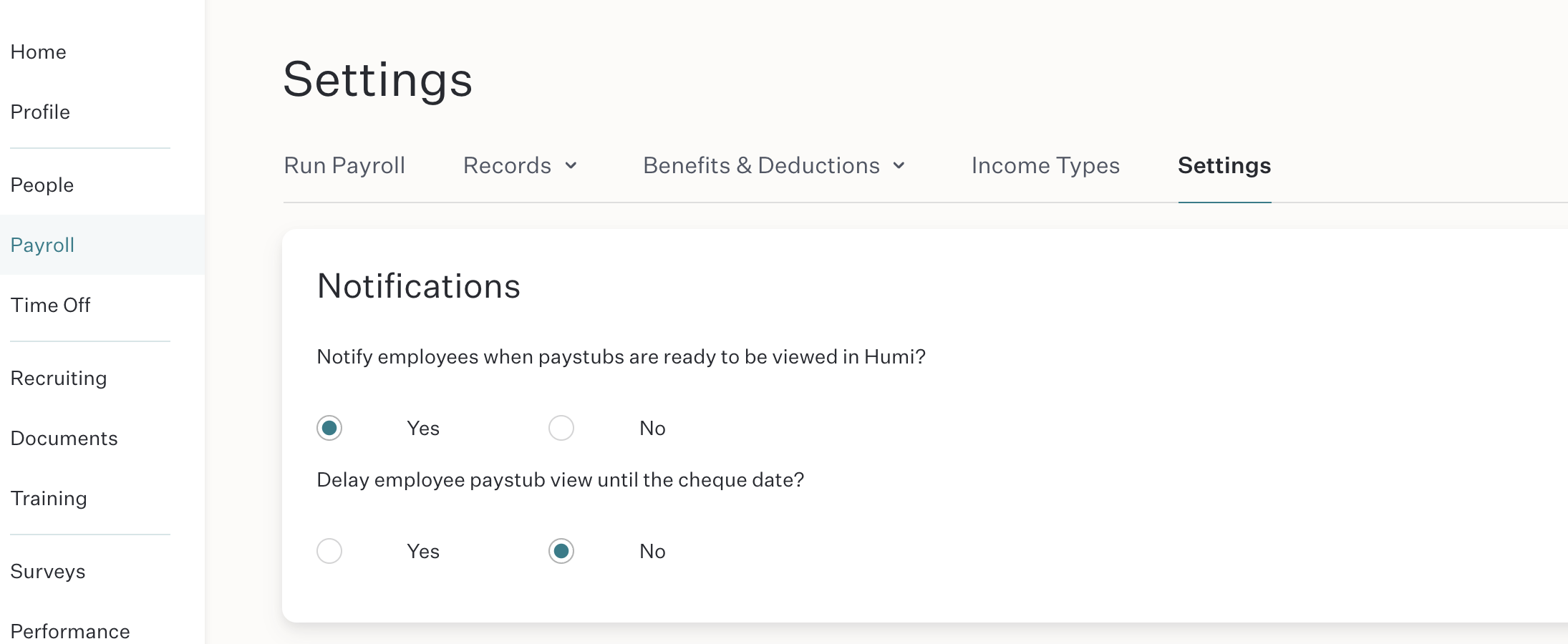 For the first question, click "Yes" if you want your employees to receive an email notification when their paystubs are ready.
Click "No" if you don't want any email notifications for employee paystubs.
For the next question, click "Yes" if you don't want your employees to be able to view their paystubs before receiving the payment.
Click "No" if you don't mind if employees can see their paystub before the payment date.
Company's Record of Employment (ROE) Contact

Fill in the contact details for your company's ROE contact here. This is a handy feature that ensures anyone inquiring about ROEs will contact the correct person.
Schedule
In this last section, you'll see the details of your payment schedule which was set up when you initially onboarded with Humi.
If you would like more details about Pay Schedule Configuration, click here.
Discover More About Payroll