If you landed here before completing the two previous steps, you can find those articles here:
What happens when I click Complete & Pay?
After all of that preparation, you're ready to hit that Complete and Pay button in the bottom right corner. When you do, a few things will happen:
Payroll is finalized.
Once you click Complete & Pay, all the records within the payroll will become final and permanently locked in - you won't be able to make any other changes.
Payroll is processed.
Humi Payroll will now process the payments to your employees and remittances to the CRA based on the records from this payroll.
Payroll is recorded.
The information from this payroll will also become part of your employees' records for the tax year and will be reported on their T4. You can now view this payroll in the payroll records section.
Transaction List is populated.
After you click Complete & Pay, Humi will take you to an overview page. Here you can see a list of transactions for the payroll including:



| | |
| --- | --- |
| Type | Debit or Credit |
| Amount | How much was paid |
| Payee | Who the payment was sent to |
| Payor | What account the payment was sent from |
| Status | The progress of the transaction |
| Failure Code | What the reason code is for the failed payment |
Reminder
It can take up to 4 business days to fully process payroll, so it's important to run payroll prior to your payroll deadline. If you missed the deadline, please contact support as soon as possible.
What if I notice an error?
At this stage, if errors are discovered within the payroll, please contact support immediately.
When will my employee(s) receive their pay?
Payments are processed in batches through the Canadian banking network and your employees will typically receive their payment around 6:00 am EST on the morning of payday.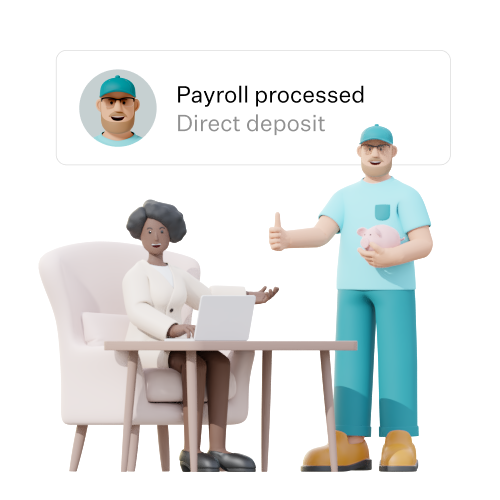 Discover More About Payroll