When someone applies for your job posting, Humi creates an "Applicant profile" that contains the information they entered when they applied for the job and adds them to the "Applicant" tab in the job posting.
There are three ways applicants can be added to your job posting – you can manually add applicants, they can apply on your job board or through an integrated app like Indeed. This post will explain how to manually add an applicant to a job posting.
If they sent their application directly to you, instead of applying through the job board or Indeed, they wouldn't have an applicant profile in Humi. As a result, in order to manage them in Humi, you'll need to manually create their applicant profile and add them to the job posting. This article will walk you through exactly how to do this.
1. In "Recruiting," click on the "Applicants" tab.
Note
If there's a specific job posting that you want to add the applicant to, click on the job posting and continue with step 2.
2. Click the "+ Create Applicant" button on the top right corner.
Note
If you're on a hiring team for a job post but not an admin, you'll only be able to add applicants to that particular job post.
3. Add the applicant information in the fields.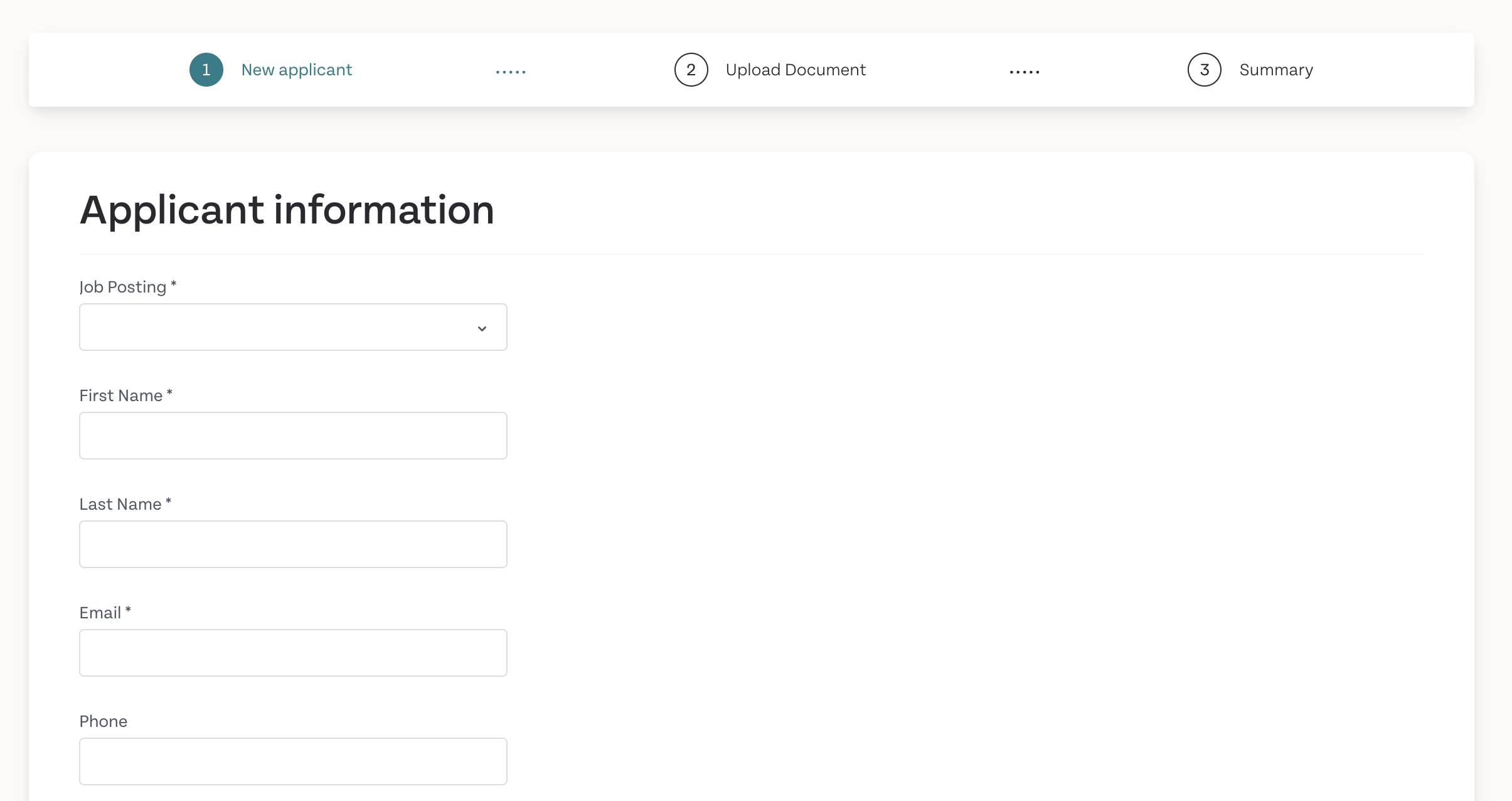 Note
If you selected the job posting to add the applicant to, you'll see that the "Job Posting" field is already populated and can't be adjusted. If you didn't create the applicant from within a job posting, select the job posting this applicant is for from the dropdown menu.
Once you've completed all required fields, click "Next."
4. Upload the applicant's resume, cover letter, and other required documents, then click "Next."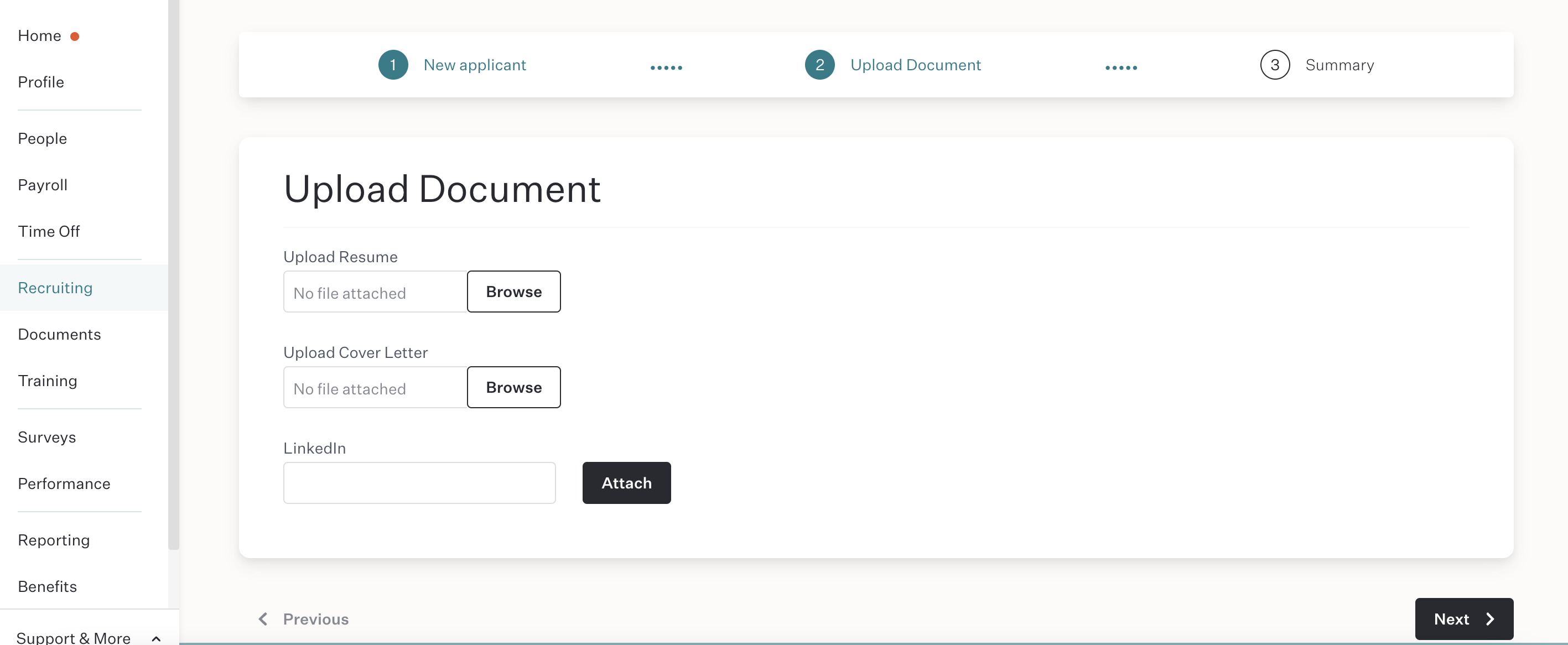 5. The final step is the summary.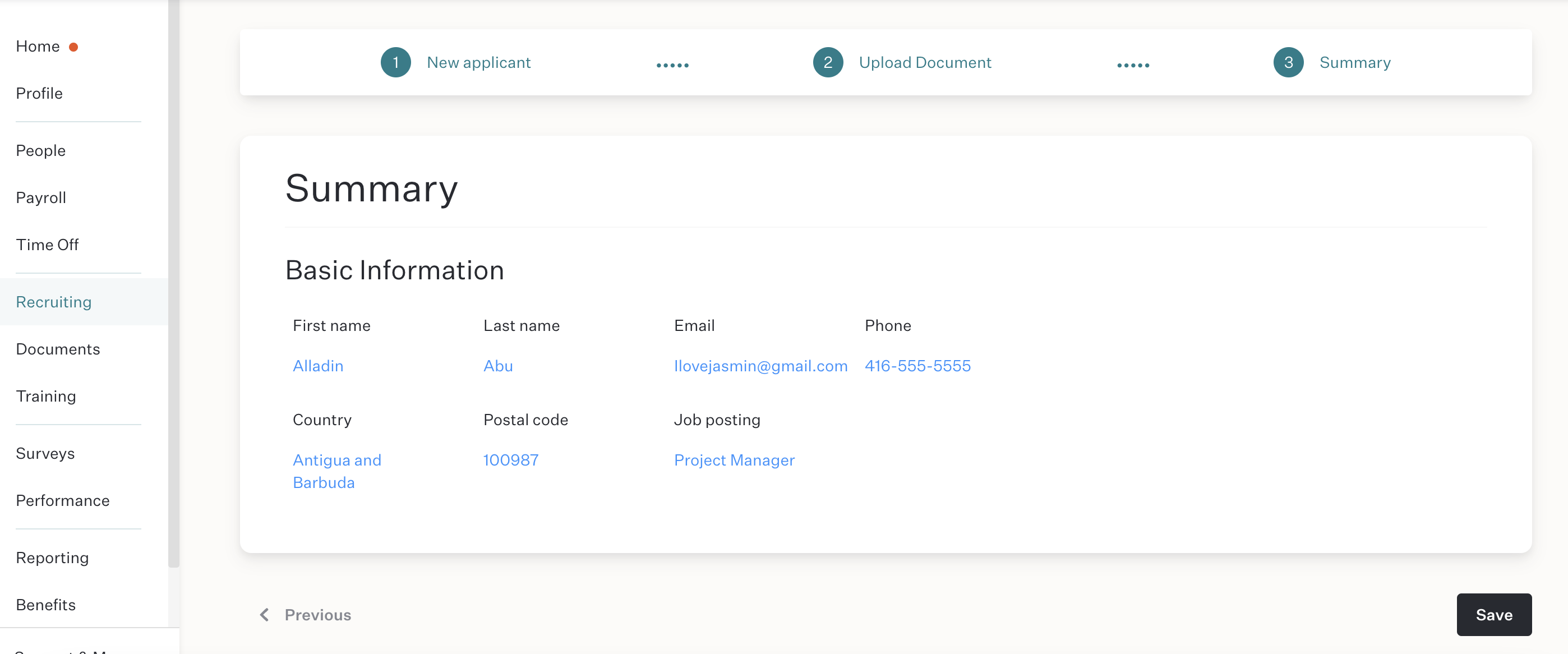 This is where you can view the information you entered to ensure everything is correct. If you need to make any changes, click the "Previous" link on the bottom left corner, and you'll be directed to the previous page.
6. Click "Save."
You just manually added a new applicant to the job posting! After you click "Save," you'll be directed to the applicant's profile. From here, you can leave a comment for hiring team members, upload additional documents, email the applicant, and more.
Discover more about managing applicants