Giving your new employees a seamless, well-organized, and enjoyable onboarding experience is essential to creating a great first impression. By setting up your onboarding settings in Humi, you can ensure they have a great experience.
Humi's onboarding settings allow you to define the information you need from them, as well as send a welcome message and onboarding video.
This article will explain how to set up your onboarding settings, including:
To get started, navigate to "People," click on the "Settings" tab and select "Onboarding" from the dropdown.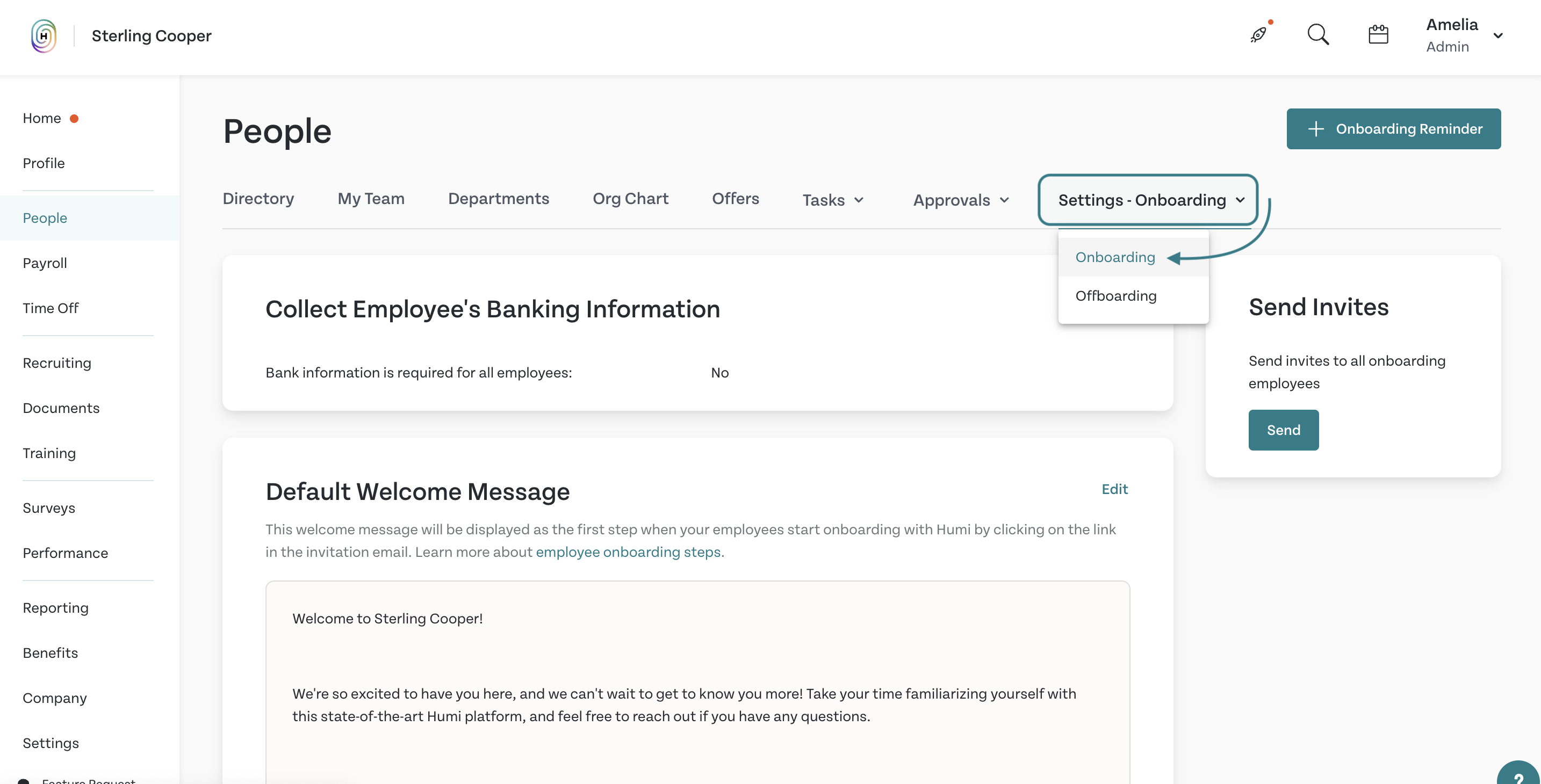 General Settings
In this section, there are four options that you can toggle on:
Banking information is required for all employees
Collect new employee's banking information during onboarding
Send hiring questionnaire to new hires by default
Send a welcome message to new hires by default
To activate any of these options, click on the switch to toggle it on, and it'll change from grey to green.
If all of the options are enabled, your employees must enter their banking information before they can complete the onboarding process and become "Active" in Humi. In addition, the hiring questionnaire/welcome message will be sent to them by default.
Default Welcome Message
The default welcome message is what your new employees will see during Step 1 of the onboarding process.
Here's an example of what it looks like to your new employees: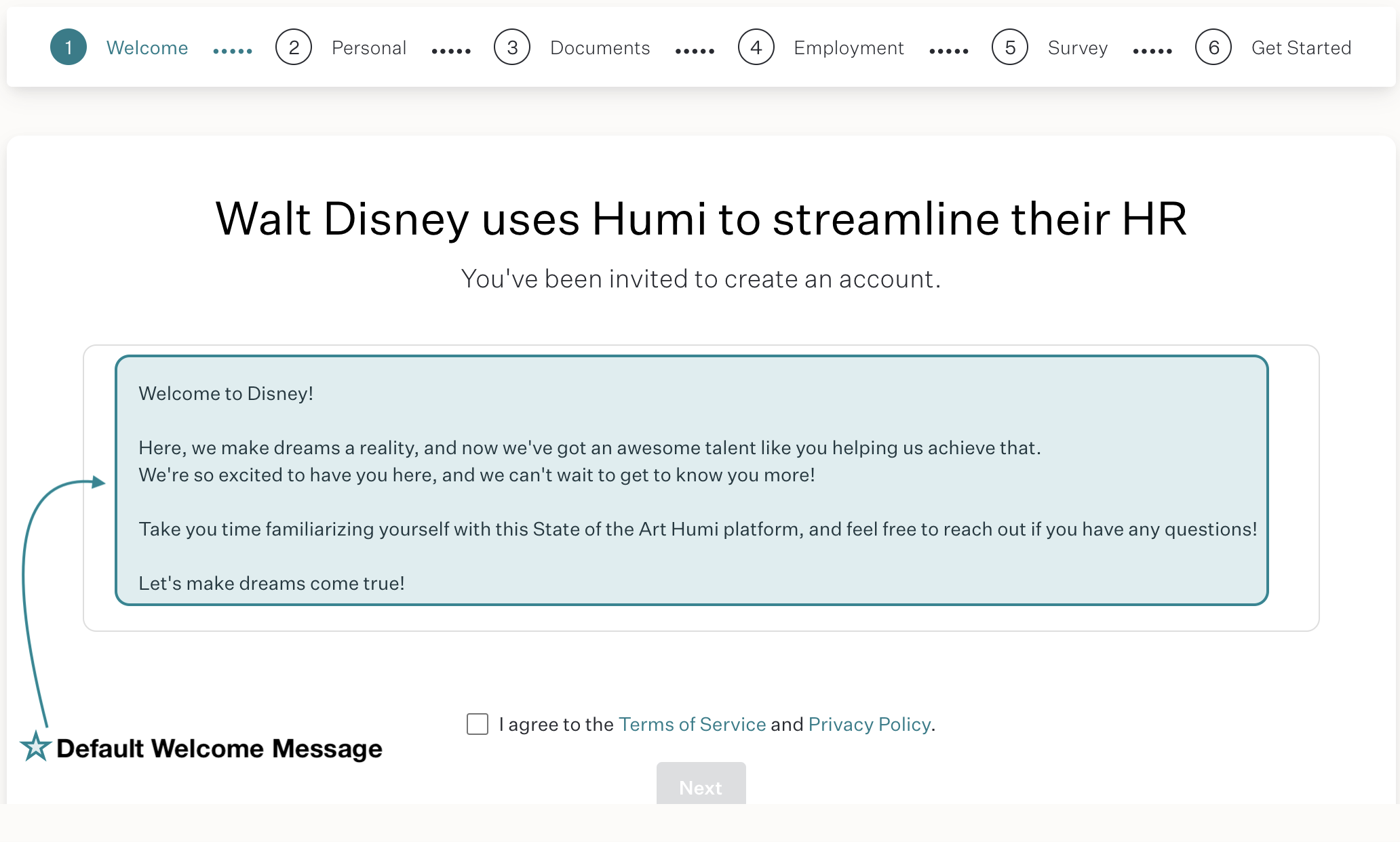 To add a default welcome message:
Click "Edit" in the top right corner of this section, enter the message in the pop-up box, then click "Save."
Default Onboarding Video
You can include an onboarding video in this section for your new employees to watch during onboarding. This video will automatically be added to the hiring flow and be displayed as an embedded video below your default welcome message.
An onboarding video is an excellent tool for demonstrating your company culture, leaving a positive impression, and instilling confidence in their decision to join your company.
Important note
Humi requires a YouTube video URL, so your onboarding video must be uploaded to YouTube.
Add your onboarding video
Summary
People > Settings tab > Onboarding > Default Onboarding Video > Edit > Enter the YouTube URL > Save
1. Click "Edit" on the top right corner of this section, and a pop-up will display where you can enter the video's URL.

2. After adding the URL, click "Save."
The video you entered will now be available in the hiring flow for all employees; however, you can change the video link if you want to use a different one for specific employees.
To change the default video, during the fourth step of the hiring flow "Review," you'll see the "Default Onboarding Video" section where you can replace the video link with the new video of your choice.
Important note
You can't edit the video link after the employee has been invited to Humi.
Onboarding Reminders
Onboarding reminders are an excellent tool for ensuring that everything is in place and ready for your new employee's first day of work.
Depending on the task, you can create onboarding reminders for the employee, an admin, or a colleague and schedule them to be sent on the hire date, before the hire date, or after the hire date.
To add onboarding reminders for new employees, go to the settings page and click the "+ Create Onboarding Reminder" button in the top right corner.

In the pop-up, enter the reminder details and click "Save."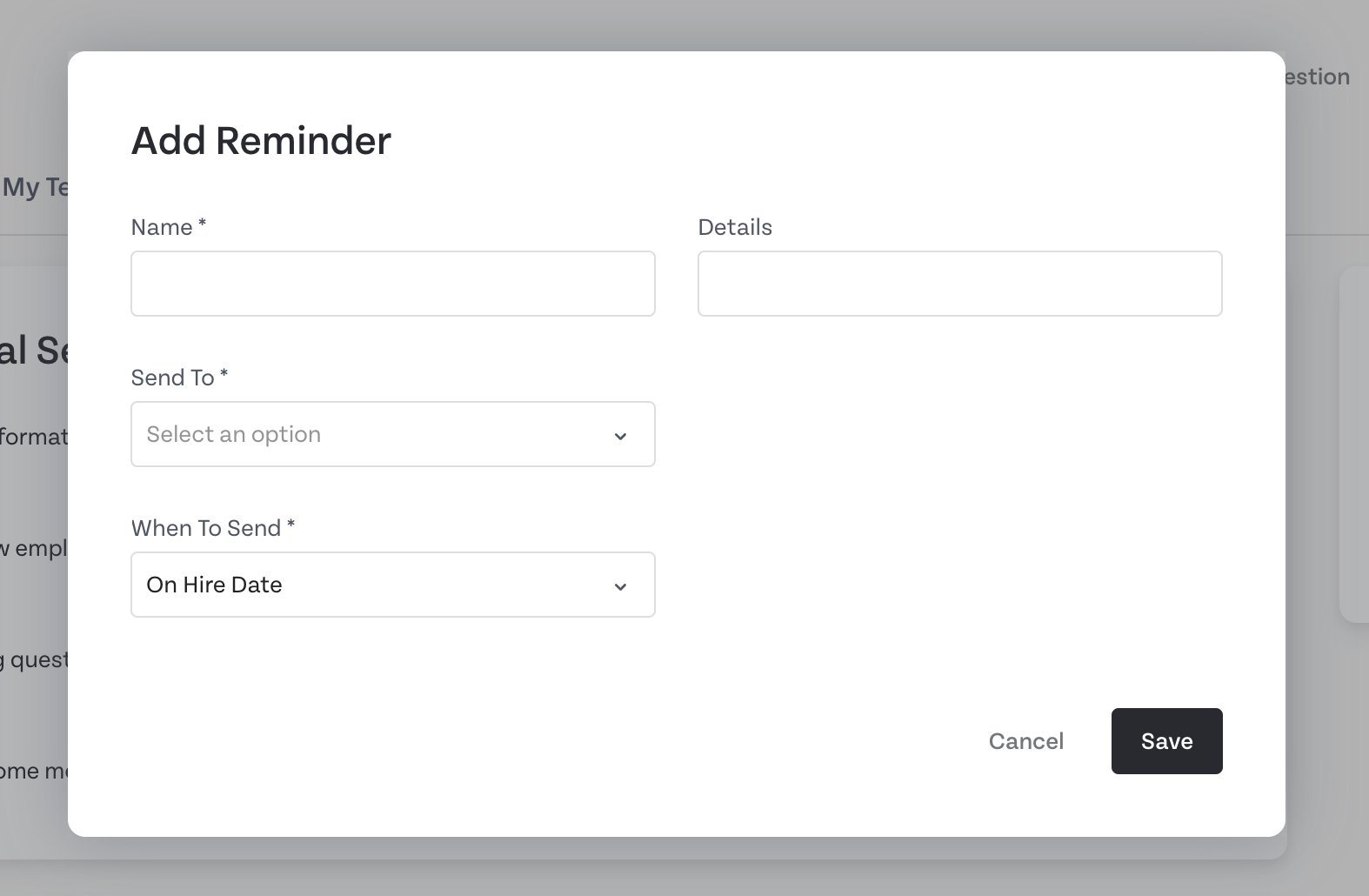 This section will display your onboarding reminders once you've added them.
New Hire Questions
Finally, the last section is "New Hire Questions." These questions are meant to be fun, icebreaker-type questions that will help the new employee share a little bit about themselves. The answers to these questions will be shared in an introduction email sent to all active employees on the new employee's start date.
To help get your ideas flowing, here are some examples:
"If you could be any animal which one would you choose?"
"Where do you want to go for your next vacation and why?"
"What's a secret talent that you have?"
Important
If you set up new hire questions, onboarding employees will have to enter responses to the questions to move to the next onboarding step.
Add new hire questions
You can add new hire questions for your new employees by clicking on the "+ New Hire Questions" button located in the top right corner of the setting page.

In the pop-up, enter the new hire question and then click "Save."
That's it, you've officially set up your onboarding settings and are good to go! Use the links below to learn more about everything you can do in our powerful "People" module.
Discover more about People