We've made it simple to review a previous offer letter, hire the candidate, revise or make changes to an existing offer letter, and so on in the "Offers" tab of the "People" module.
Keep reading to learn how to view or manage offer letters in Humi.
In "People," click the "Offers" tab and use the search bar to find the offer letter you want to view, then click on it to be automatically directed to the offer details page.
Offer details page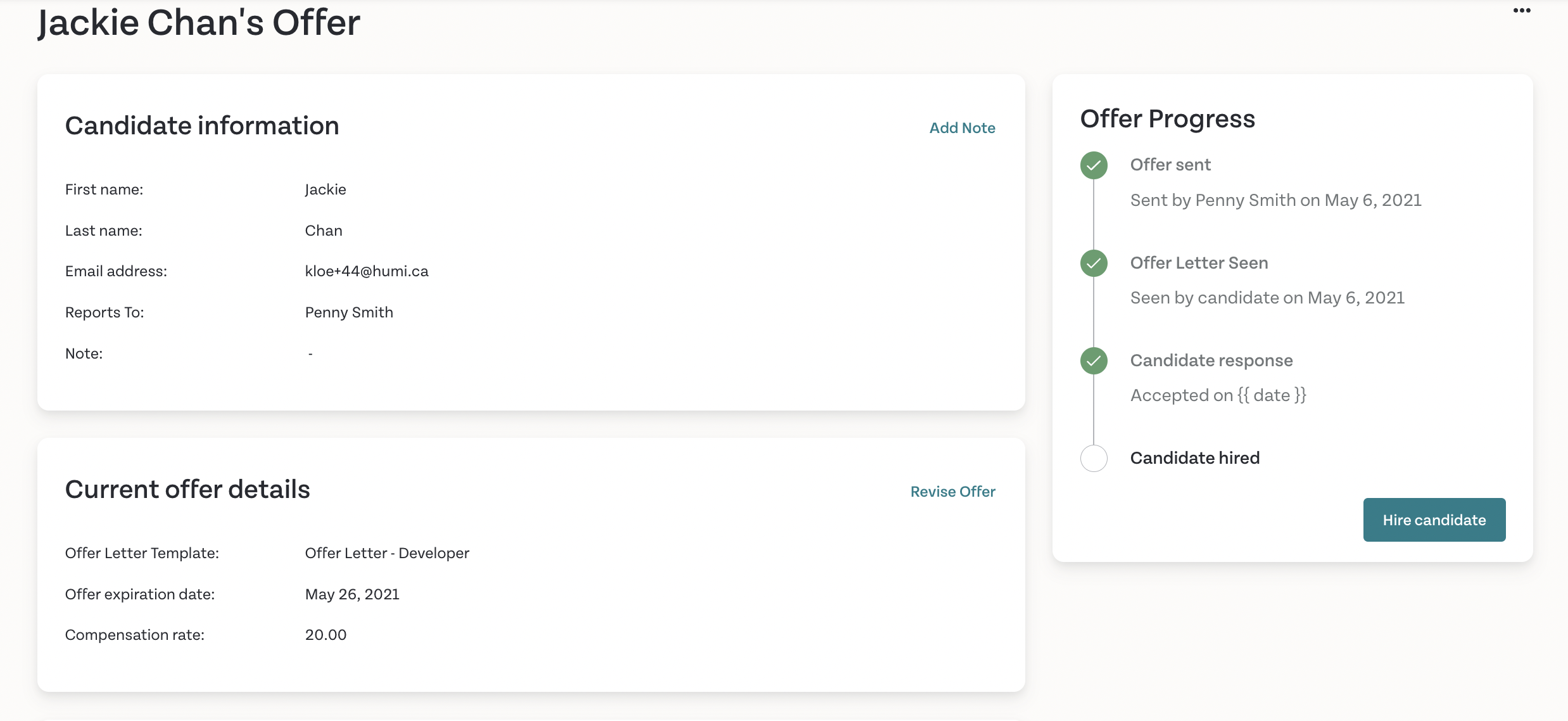 On this page, you'll find:
Candidate information
Current offer details
Offer history
Offer progress
Candidate Information
In this section, you'll find the candidate's name, contact information, and candidate notes. To add or edit candidate notes, click the "Add note" or "Edit note" link in the top right corner.

Note
Any notes added here are for internal use only and will not be shown to the candidate unless you grant them access to this page as an employee.
Current offer details
This section displays the offer letter template used, expiration date, and compensation rate.
After candidate negotiations, you may find that you need to make changes or revise the original offer created. Just click the "Revise Offer" link in the top right corner to do this.

Note
Revising an offer will invalidate the pending offer and allow you to resend the newly revised offer to the candidate.
Offer history
In this section, you can view the date the offer was sent, the offer status and the signature status. Once the offer letter is signed, you can download it by clicking the "Download" link located beside the signature status column.

Offer progress
This section displays each step of the offer process, including the date the offer letter was sent, the date it was seen by the candidate, the date it was signed, and finally, the date the candidate was hired.
You can easily hire the candidate by clicking the "Hire Candidate" button here.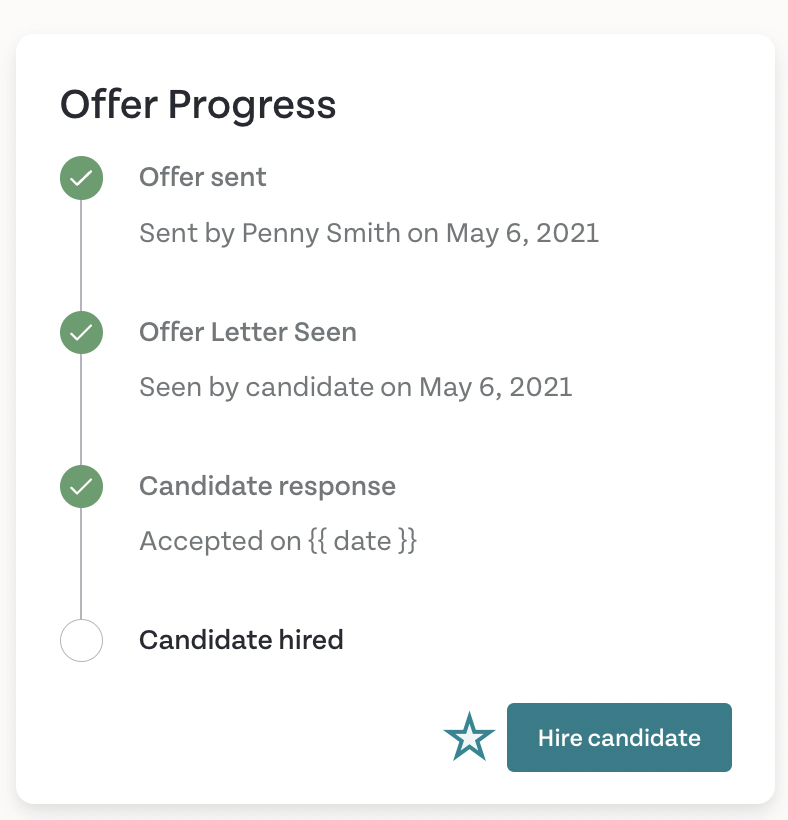 Other actions
Finding the perfect talent can be tricky and even when you think you've found the one, sometimes it doesn't work out.

From this page, when you click on the three dots located in the top right corner of this page you can:
Withdraw the offer — After sending the offer letter, If you no longer want to continue with the candidate, you can withdraw the offer. Selecting "Withdraw" from the dropdown and the candidate's offer letter link will be deactivated.
Candidate declined — If you've sent the offer letter, but the candidate has declined, select this option to set the status to "Candidate Declined."
Delete the candidate — If you want to completely remove the candidate from the offers table, deactivate and delete any associate offer letters, select "Delete candidate" from the dropdown.
That's all you can do from the offer detail page; to learn more about functions in the People module, use the links below.
Discover more about People