Getting to know your employees personally is essential for retention, building team culture, and increasing productivity by creating a great place to work.
If you need any employee information, for example, their phone number, emergency contact or even food allergies, you can find it all in their employee profile.
There are seven tabs on the employee profile and this article will describe the information found in the "Personal" tab.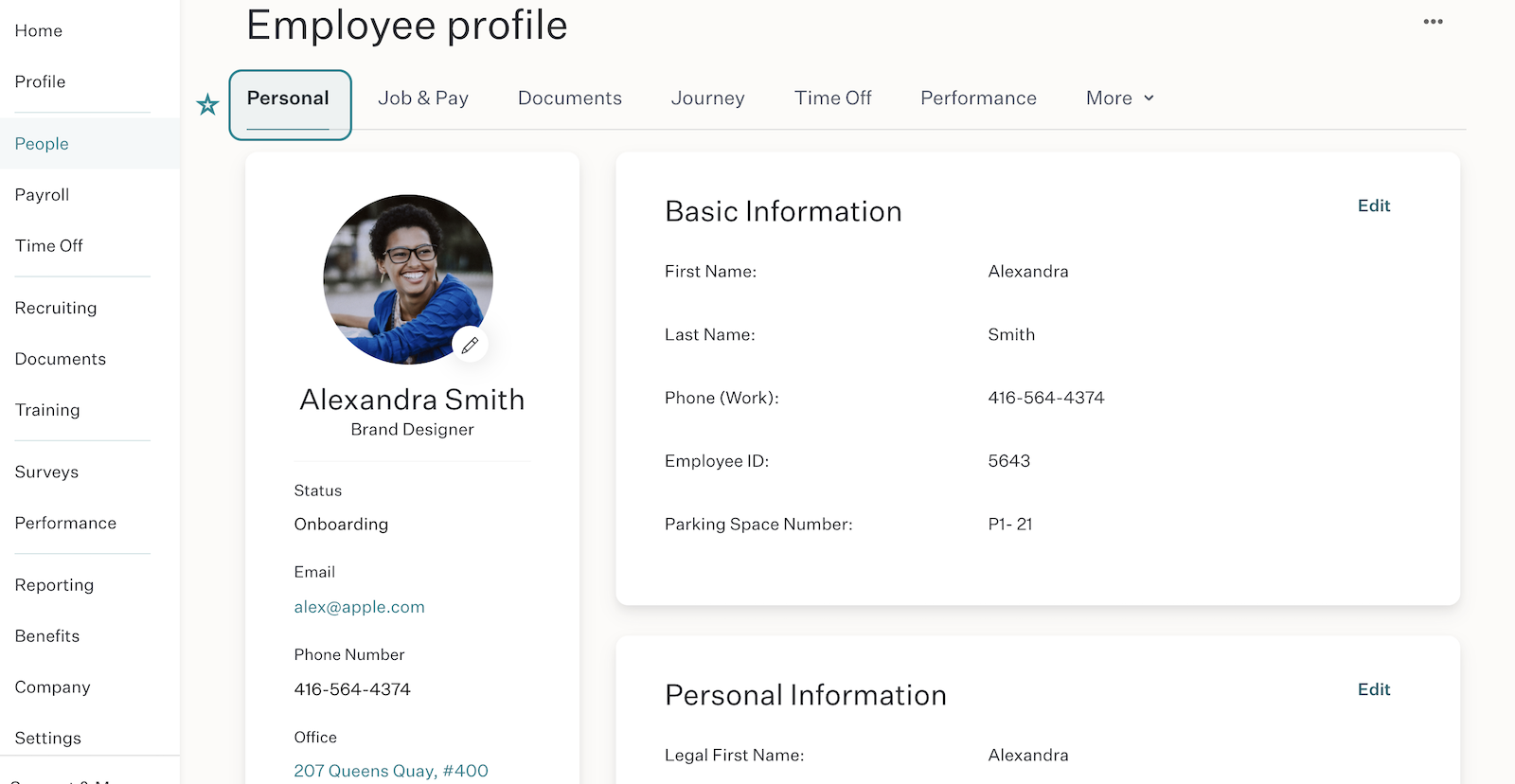 This page has four default sections, including:
If there's an error in any of these sections, you can correct it by clicking "Edit" in the top right corner of the section.
Custom Fields and Custom Field Groups
"Custom fields and Custom field groups" allow you to customize your employee profiles and get more in-depth information about your employees.
For example, you could create a custom field to collect employee information about their uniform size, parking spot number, licenses etc. Learn about custom fields.
‍Basic Information
Important Note
Admins and managers have access to all employee information and tabs, but managers can only access the employee information only for their direct reports.
Employees have limited access to other employee information and can only see a subset of it on the "Personal" tab. All employees can access the "Directory" and click on anyone's employee profile. While their view is minimal, the "Basic Information" section is visible to all employees.
Below is a screenshot of the information all employees can see: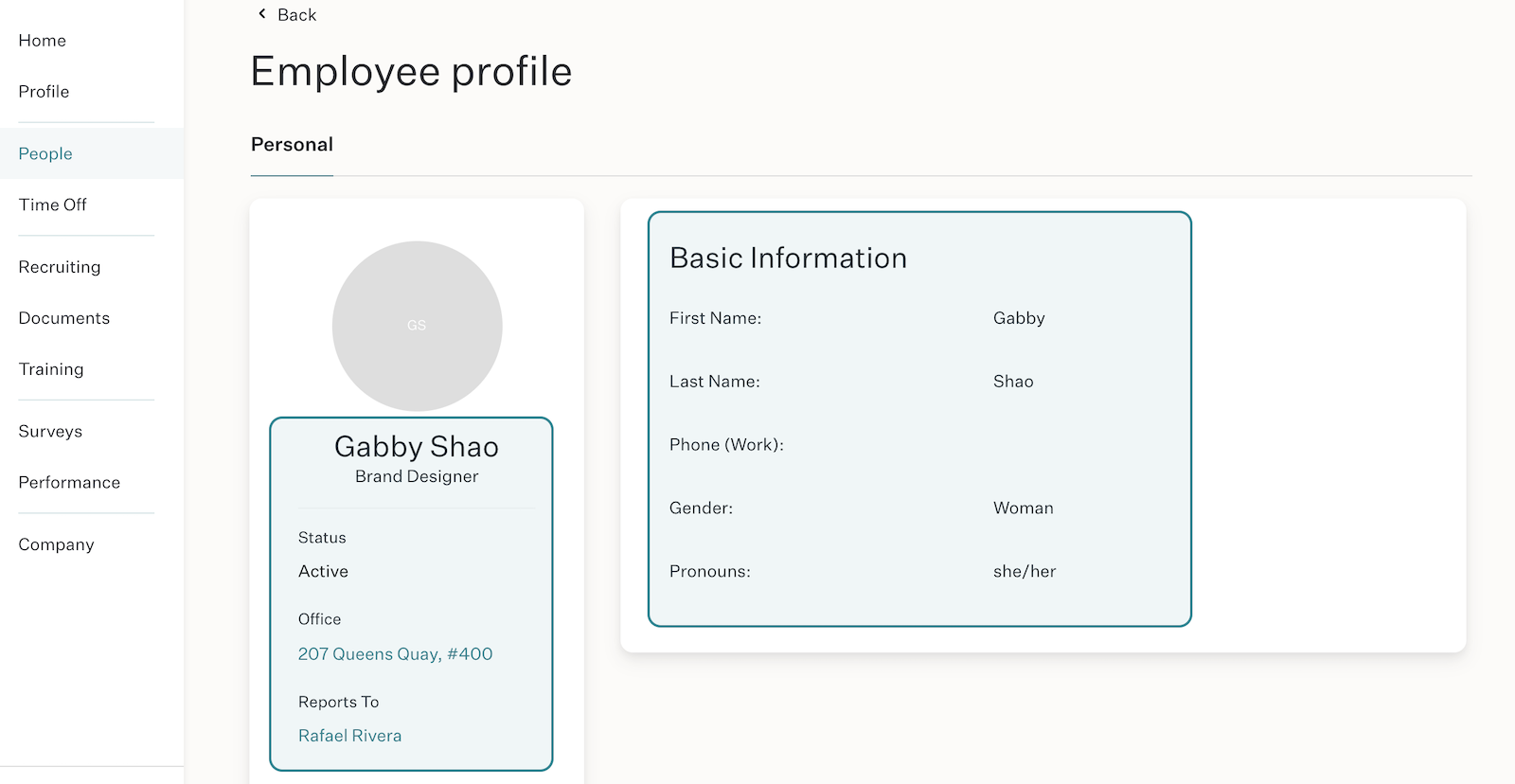 This section contains the employee's preferred first and last names, work phone number, name pronunciation, gender, and pronouns.
Important Note
When using any of the search bars within Humi, the employee's preferred name will be used for searching instead of their legal name, if it's different.
Specifying gender(s) and pronouns
Employees can choose to specify their gender(s) and pronouns in the "Basic Information" of their employee profiles. Learn how to add gender(s) and pronouns here.
Add their "Name Pronunciation"
Our names are a huge part of our identity and it never feels good when it's mispronounced. That's why we've added the "Name Pronunciation" feature.
Employees can record their name pronunciation in their employee profiles so that their colleagues can reference it and learn how to pronounce their names. Learn how to add your "Name Pronunciation" here.
Personal Information
‍The following section is "Personal Information," and as the title suggests, this section contains the employee's legal information required for various features within Humi to work.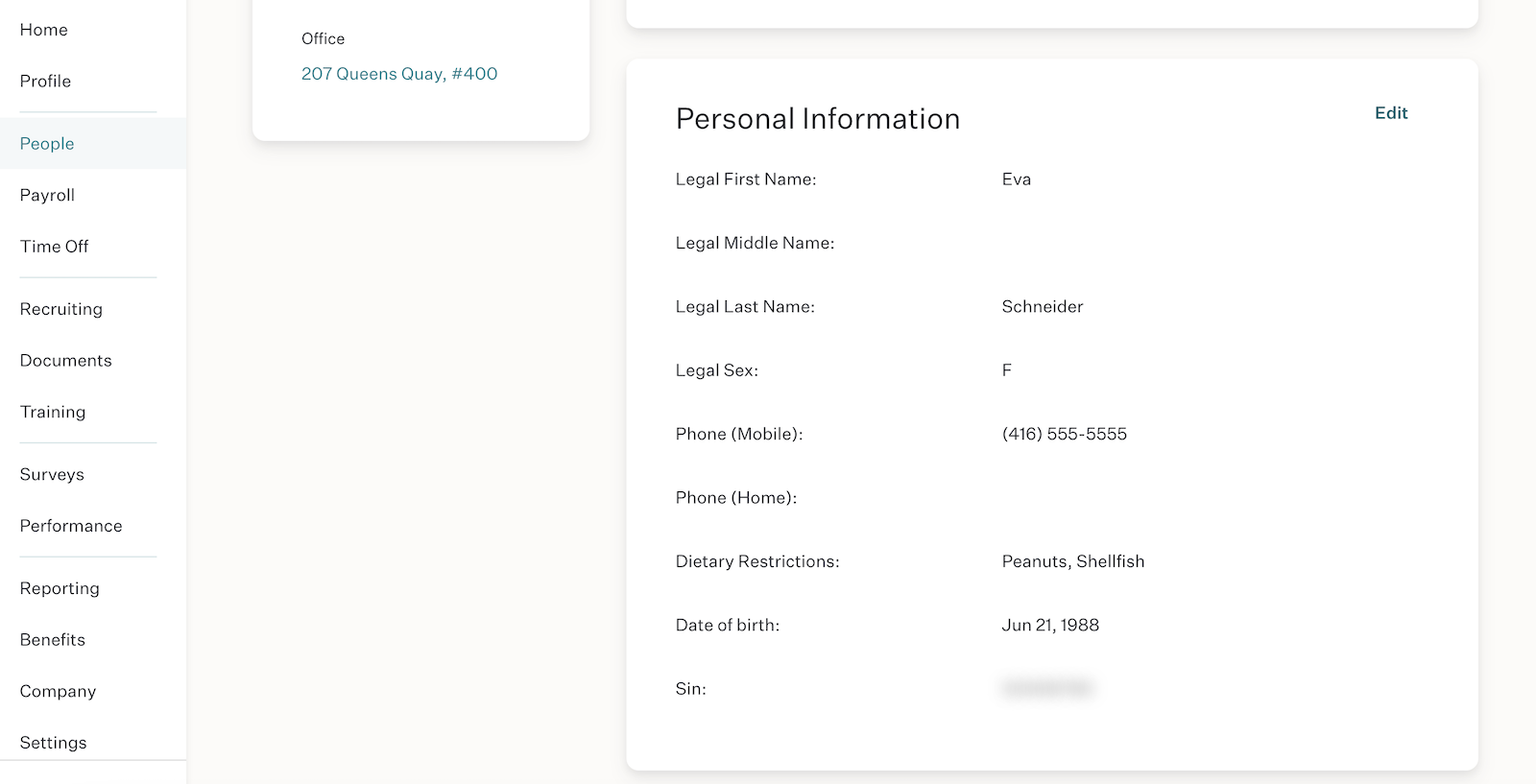 It contains the following employee information:
Legal name – used when signing documents and for payroll purposes such as paystubs.
Legal Sex – this is needed for benefit purposes.
Personal Phone Numbers
Dietary Restrictions
Date of Birth
Social Insurance Number (SIN) – The SIN is always encrypted and hidden from view. To view the employee's SIN, you need to hover over it.
Important Note
To add an employee to Humi payroll, they must have their SIN entered here.
Address
Emergency Contacts
During onboarding, employees are asked to complete this information; however, it's not mandatory.
Although this section is optional, we encourage all employees to complete this section for use in case of an emergency.
Employees can include information for up to two emergency contacts, including their name, relation, and phone number.
The next tab in the employee profile is "Job & Pay," click here to learn more about it.
Discover More About People