At Humi, we know that taking time off is essential to being well-rounded, healthy and productive team members.
So how do you request time off in Humi?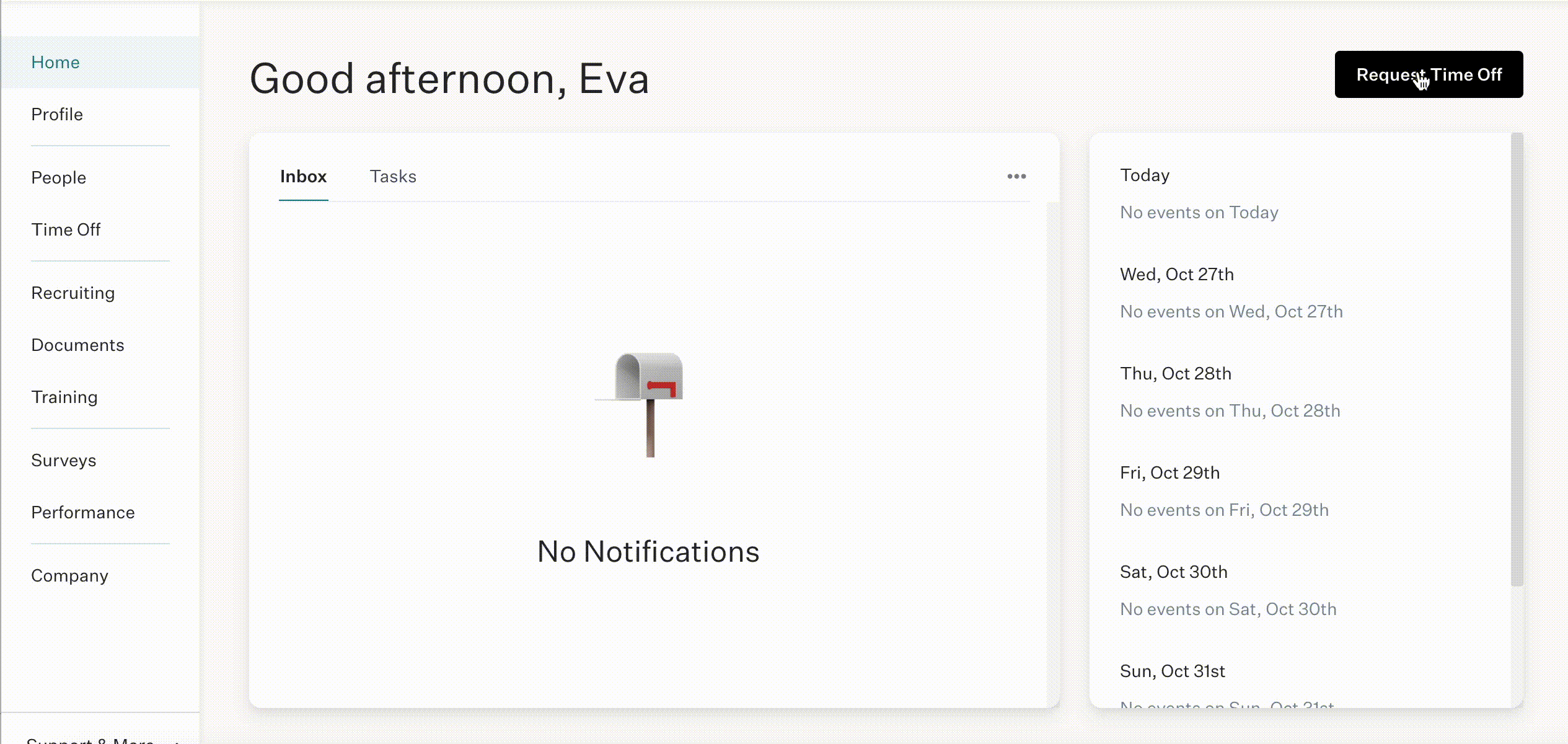 We've made it really easy – just follow the steps below:
On the homepage, click on the Request Time Off button located In the top right corner

On the calendar, select the dates that you would like to request time off

Select the Leave Type from the dropdown menu (Vacation, Personal, Sick etc.)
If you require less than a full day off, such as a half-day, you can use the Adjust Daily Amounts button to enter the desired amount of time off. Humi uses decimal increments to determine this time.

For instance:

1 = Full Day

0.5 = Half Day

Add a description if needed

Click the Request button

Done! Your Time Off request has been sent to the approver, and you'll be notified in Humi when it's approved or denied
Checking for Overlap
On the bottom right, in the Overlap in Department section, you'll see if there are any overlapping time off requests from other team members.
This section is helpful because if there are too many people overlapping, you will have a better understanding of why your time off request may not be approved. Knowing this, you can try to plan for a different date when there are fewer people off.
How do holidays and weekends work?
Weekends and holidays will count as 0 by default, as per the Work Schedule that the employee in question is on.
For example, if you made a time off request from Wed. December 8th to Wed. December 15th, only 5 days will be deducted from your accrued time off, not 7 days, as weekends are not included in time-off requests.
If you're unsure what work schedule you're on, ask your account admin.
Review and Submit
Finally, after you submit the Request, you will see a page where you can review the details you've just submitted:
Employees will be able to follow along with the approval flow, to see the status of the request, and the approver assigned to the request.
After you've created your Time Off request you can always edit or delete it if needed.
Admins can edit requests at any time.
A few helpful tips:
Time Off Requests can be for fractions of a day (useful for times when you only need a half-day off) or multiple days.
Requests cannot be set up as recurring, and you can't have any gaps within a single request. So if you needed Monday and Wednesday off, you would need to make a Time Off request for each one.
Requests can't be moved from one Time-Off Type to another (for example, from a vacation day to a personal day). If you need to make this adjustment, you will need to delete the first request and add a new one with the corrected Type.